The planning and operation of aircraft at Auckland Airport is regulated through a number of national and regional Acts, Rules and Plans. A number of organisations are involved in enforcing aircraft noise rules. Aviation legislation and policy focuses on the safe and efficient operation of airports. Land use planning legislation and policy manage the use of land both at the airport and in the surrounding communities, including in relation to aircraft noise.
Relevant Acts, Rules and Plans include:
Civil Aviation Act 1990
The Civil Aviation Act 1990 is New Zealand's central piece of aviation legislation. The Act is administered by the Civil Aviation Authority of New Zealand (CAA). It establishes rules of operation and divisions of responsibility within the New Zealand civil aviation system to promote aviation safety. It also ensures that New Zealand's obligations under international aviation agreements are implemented, and it consolidates and amends the law relating to civil aviation in New Zealand. Civil Aviation Rules developed under the Act provide the framework to enact the legislation's requirements.
Civil Aviation Rules
The Civil Aviation Authority of New Zealand governs civil aviation and sets rules relating to airport and aircraft operations using Civil Aviation Rules, known as CARs. CARs cover topics such as aircraft, personnel, airspace, general operating and flight rules and noise abatement procedures.
Resource Management Act 1991
The Resource Management Act 1991 is New Zealand's central piece of environmental legislation. Statutory regulation of aircraft noise arises from the RMA, which provides mechanisms for placing limits on activities making noise, and enables the taking of enforcement action to prevent unreasonable noise.
Auckland Unitary Plan
Auckland Airport is a central government-approved requiring authority which can make decisions in relation to approximately 1,200 hectares of land owned by the airport. The Auckland Unitary Plan contains Designations 1101 and 1102. These designations enable certain activities at the airport, including aircraft noise, to be carried out provided they comply with the terms of the designations.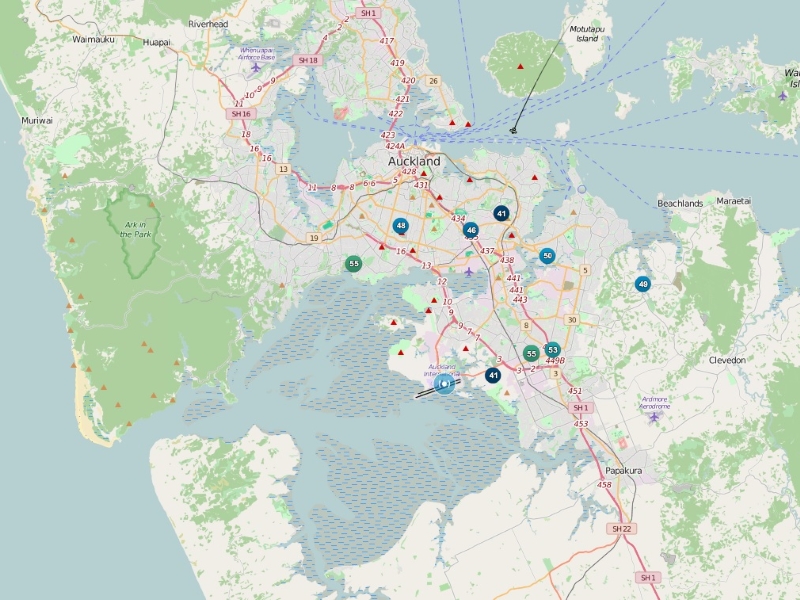 View aircraft using Auckland Airport
Use our online tool to view aircraft traffic through Auckland Airport
---
Find out more