There are a number of important participants in the aviation industry that work together to monitor and manage aircraft noise in and around Auckland Airport.
Who sets the aircraft noise rules
International oversight
The International Civil Aviation Organisation, or ICAO, is a United Nations body that requires all jet aircraft and helicopters to meet internationally accepted noise certification standards. ICAO also issues noise abatement procedures designed to ensure aviation environmental protection. These standards inform aviation-related legislation in all member countries, including New Zealand.
The New Zealand framework
The Ministry of Transport is the Government's principal transport advisor. It also represents New Zealand's transport interests internationally and monitors legislative issues. The Civil Aviation Authority of New Zealand, (CAA) supports this process, establishing and monitoring civil aviation and security standards. The CAA was established by the Civil Aviation Amendment Act 1992, and operates under the Civil Aviation Act 1990. This Act outlines rules for the operation of aircraft in New Zealand, including rules and guidance for reducing aircraft noise. These rules, or noise abatement procedures, place restrictions on where and when aircraft can fly, and at what altitude.
Airways New Zealand manages our country's airspace, controlling all domestic and international air traffic travelling within New Zealand's Flight Information Region (FIR), which totals 30 million square kilometres – one of the largest areas of airspace in the world. It operates under CAA rules when instructing aircraft where to fly.
Auckland Council's Unitary Plan, and the Government's Resource Management Act 1991, outline rules for the management of land in the vicinity of Auckland Airport to reduce the impact of noise on neighbours.
National Airspace Policy
The current National Airspace Policy was created in response to a Global Air Navigation Plan which ICAO issued in 2007. The policy recognised the step-change from land-based navigational aids to performance-based navigation technology and global positioning satellites (GPS), the technology used in SMART Approaches to Auckland Airport.
The policy states that it is consistent with the Government's goal for New Zealand's economic growth and its objective of an effective, efficient, safe, secure, accessible and resilient transport system that supports growth. The policy includes the principle of a safe airspace, which is compatible with international standards and best practice. The policy aims to deliver an airspace which is efficient, environmentally responsible, integrated and enhances the ability for systems and organisations within the aviation sector to work more collaboratively.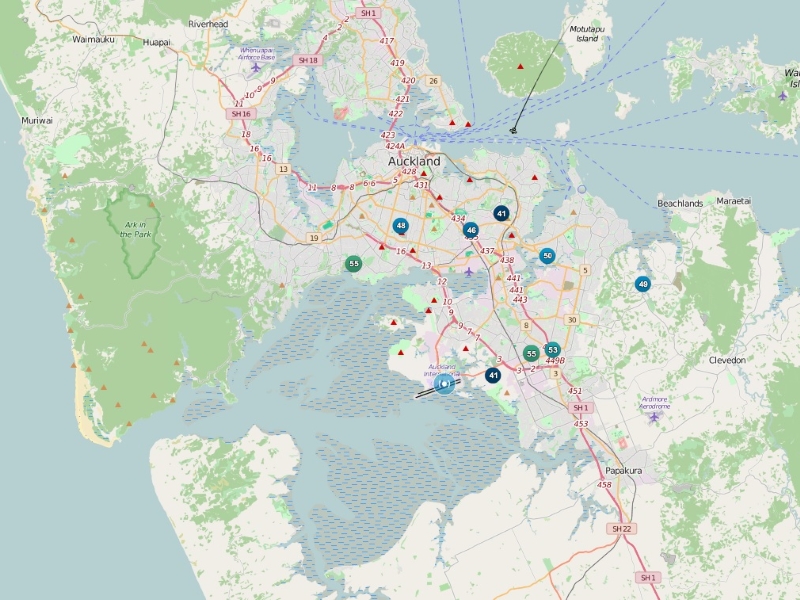 View aircraft using Auckland Airport
Use our online tool to view aircraft traffic through Auckland Airport
---
Find out more