We are proud of our location on the beautiful Manukau Harbour and recognise that we have a duty to care for the area's unique habitats, heritage and waterways. This duty involves managing environmental risks like polluted stormwater and contaminated land.
Our environmental management plan
We have had an environmental management system in place for many years. It is externally reviewed and updated annually. This system includes the environmental plan and initiatives set out below. The plan ensures not only that we comply with legislation but also that we continue to improve our environmental performance over time.
View our environmental management plan
Managing stormwater
We have identified operations that pose a risk to the local stormwater system. We work with our business partners to minimise contaminants entering the stormwater system and remove these using wetland treatment systems.
We start with good housekeeping – regularly cleaning roads, cesspits and interceptors around the airport to prevent contaminants like dirt and rubbish from being flushed into the stormwater system or creating blockages. We test the stormwater discharge from our nine catchments regularly, together with any sediment that reaches the receiving environment. If there is an issue, we investigate and act quickly to resolve it.
Managing spills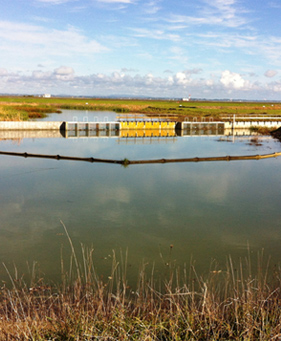 We record spills and respond to them quickly before contaminants enter the airport's drainage system. The number of significant spills (over 2m2) per 1,000 aircraft movements is continuing to fall. Our Airport Emergency Services team is on hand 24 hours a day and trained and equipped to deal with spills – whether oil, effluent or other hazardous substances.
We have developed purpose-built wash facilities for aircraft and vehicles, including public vehicles. These systems flush water down the sanitary sewer, preventing it from entering the airport's stormwater system.
Managing soil and groundwater contamination
Historic working practices have contaminated some soil and groundwater sites around the airport. We have identified these sites and are minimising environmental and health and safety risks by gaining appropriate resource consents and creating approved management plans. We are reducing the risk of future contamination by regularly auditing high- and medium-risk operations.
Keeping our coastline clean
We are proud of our location on the beautiful Manukau Harbour. Every year we partner with a local school to clean up a section of the coastline beyond our airport runway. Employees from across our business join the students for an event that has become an airport favourite. We round the afternoon off with a BBQ, prizes and a donation to thank the school for their efforts.
In recent years the team from the Sustainable Coastlines Charitable Trust have joined us too, sharing their expertise and helping us all learn more about the marine ecosystem.