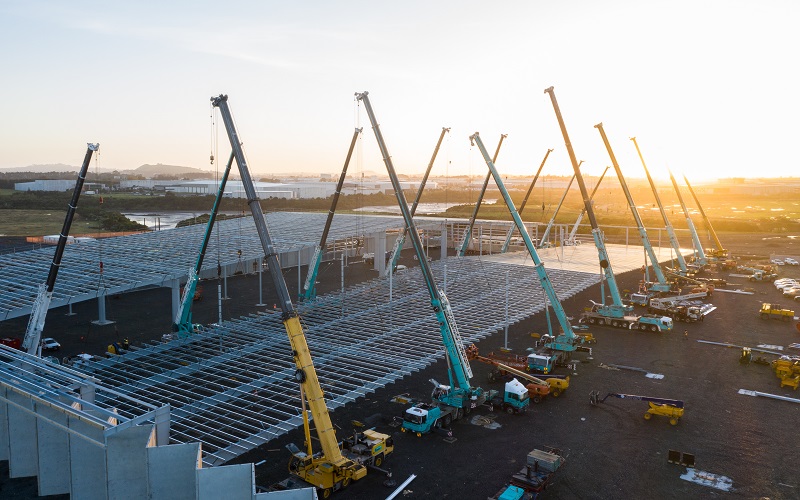 An impressive 16-crane lift installing 7,000m2 of roofing at a time is a significant milestone in the development of a new distribution and support centre for New Zealand's biggest supermarket business, Foodstuffs.
The purpose-built complex will bring together several Foodstuffs North Island operations, which includes PAK'nSAVE, New World, Four Square, Liquorland, Gilmours and Fresh Collective brands, and see the business move from the Mt Roskill site it's been based at for more than 50 years.
Not only is it an exciting project for Foodstuffs, it's been an interesting and challenging project for the Auckland Airport property team too.
"The Foodstuffs development is of a scale that is almost unprecedented in New Zealand, involving multiple contractors working closely together over the three-year period, including 26 different design agencies and three construction contractors on site simultaneously. This will be a significant achievement for all those involved in the project," says Mark Thomson, Auckland Airport's General Manager of Property.
"Foodstuffs were looking for a premium location for their new state-of-the-art facilities and saw value in relocating to The Landing, which offers award-winning design and connectivity through proximity to main arterial routes and aeronautical and cargo facilities. Foodstuffs will be a welcome addition to the leading businesses already calling The Landing home."
The scale of the build, with the resulting distribution centre among the biggest in New Zealand, meant preparing a site far bigger than Auckland Airport's "development ready" land reserves.
The innovative design featuring both the distribution centre and head office also means a high degree of project complexity, including the largest number of cranes used in a single lift in New Zealand to install the pre-assembled warehouse roof rafters.
"Five years ago, we set out a long-term plan to develop The Landing Business Park as New Zealand's premium business location," said Mark.
"We are delighted to welcome Foodstuffs North Island to The Landing Business Park."
It won't be just Foodstuffs staff who'll benefit from the project. Landscaping around the area will ultimately include 10 hectares of additional parkland beside Oruarangi Creek, featuring walking and cycling tracks.
Built for scale
75,500m2 warehouse, equivalent to nine rugby fields
Designed to supply non-perishable items to more than 100 supermarkets
9,000m2 standalone head office
Total facility to accommodate more than 1,000 staff
Office Green Star 5 rating
Completion early 2021.