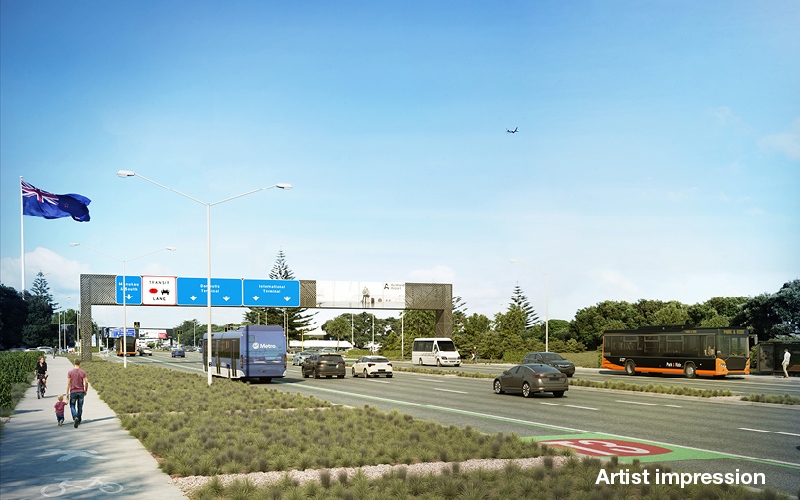 The multi-million dollar 'Northern Network' project will begin transforming the main entranceway into the airport, as well as providing critical support for new public transport connections.
During this project, George Bolt Memorial Drive, the main road into the airport from the north, will be widened to create high occupancy vehicle lanes, with shared pedestrian and cycle paths alongside.
Simultaneously, roads will be added to the airport network.
"Northern Network is about making access to the airport reliable, with the roading network resilient enough to cope with anticipated volumes in the years ahead," says André Lovatt, Auckland Airport's General Manager Airport Development and Delivery.
"Northern Network is a key project for Auckland Airport in that it is providing the roading infrastructure backbone for a multi-billion-dollar investment programme to support the future terminal and runway developments," he says.
A new one-way loop road will be built, allowing traffic to flow efficiently through a pick-up/drop-off zone at the international terminal before connecting back into George Bolt Memorial Drive. The new Altitude Drive will create additional roading capacity, allowing terminal bound traffic greater journey time reliability.
Alongside the contractor, construction firm Downer, Auckland Airport came together with mana whenua, Te Ākitai Waiohua, in early July to bless the site. Downer will be onsite and beginning earthworks in August.
Most of the new roads and intersections will be finished by the end of 2020, while the intersection of George Bolt Memorial Drive and Tom Pearce Drive is more complex and construction work on this intersection is scheduled to be completed in the middle of 2021.
"This project is one of a suite of transport and roading projects to take place allowing the growth of the airport, which includes the second runway," André says.
"We know that any time there are roadworks on busy roads across Auckland it can affect traffic.
"We will be maintaining two sealed lanes in either direction on George Bolt Memorial Drive, just as there are today, but we need to keep our site workers safe and we will be asking road users to take care and plan their journey."