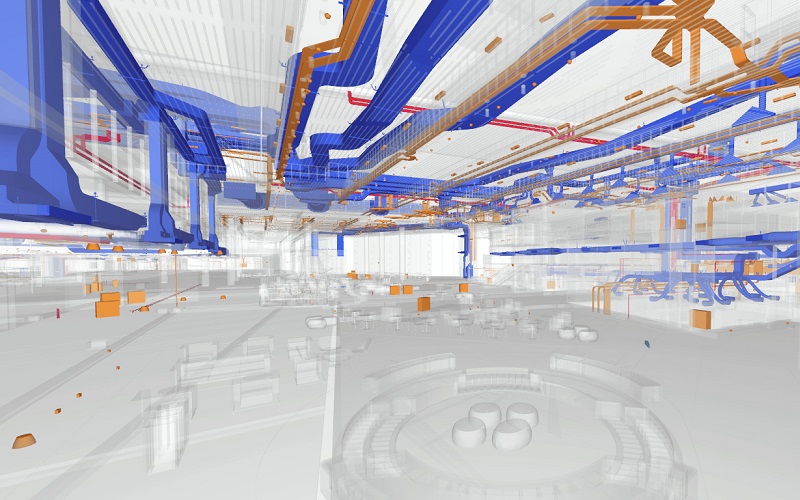 Since opening, each of Auckland Airport's terminals has changed in layout, size and configuration multiple times. Services have become layered on, structures have changed, and walls have moved.
Keeping track of all this isn't easy but as we begin planning for our next stage of infrastructure programme it's important to have a complete picture of an asset – from the nuts and bolts to its steel framework, says Brian Rae, Asset Information Manager.
"Helping Auckland Airport manage the scale and complexity of the work ahead, we have started a digital transformation journey to support our building programme and improve the way we manage our assets over their lifecycle, from early design through to end of life."
During the past two years, Auckland Airport has trialed and adopted integrated Building Information Modeling (BIM) and Geographical Information Systems (GIS) software – leading edge design technology that has allowed us to start creating digital 3D replicas of our airport assets.
Blending geospatial and engineering, architecture and construction data, the technology allows designers to work together throughout every phase of a project. It provides a complete picture of an asset, helping project teams to streamline processes and resolve complex construction challenges ahead of building works beginning.
First tested on the 35,000m2 redevelopment of the airside departure and dwell area in the international terminal, it was such a success we adopted the technology in full for the development of new gates at Pier B.
Mapping the structure of the existing international terminal involved the collation of existing 3D models along with ground-based 3D laser scanning, to create a sophisticated replica. Designers and builders also contributed, modeling construction elements in detail, allowing the team involved to collaborate and analyse any issues in a digital world, without leaving the office.
With more than 200 projects planned over the next two decades, we're using the technology to create a complex model of future construction projects, called the 'Capital Works Master Schedule'. The model visualizes complex sets of information in an easily understood manner. By linking 3D models to a time schedule and project costings, the team can assess workflow planning, logistics and other aspects of the construction process.