The impact of aircraft noise depends on the stage of the journey. While planes fly over most parts of Auckland in the space of a week, our immediate neighbours are most impacted by aircraft take-offs and landings, which is when most people notice aircraft noise. Our near neighbours may also experience aircraft noise during ground movements and engine testing.
Overflight
More than 420 flights land and take off at Auckland Airport every day. As a result, almost all of Auckland experiences some overflight by arriving and/or departing aircraft.
If you are interested in viewing the amount of overflight that happens in Auckland's skies over a seven day period, you can use our interactive mapping tool.
If you have a concern about a particular flight, click here.
Take-off and landing
It is during take-off and landing that aircraft noise is most noticeable to most people. Taking off, that is largely due to the engine thrust. Landing, flaps and landing gear generate extra noise.
Click here to see a map of the three areas in Auckland most affected by aircraft noise.
The three areas are known as the High Aircraft Noise Area (HANA), the Moderate Aircraft Noise Area (MANA) and the Aircraft Noise Notification Area (ANNA). Land within the HANA and MANA is subject to special controls, to manage the impacts of aircraft noise.
The three areas and the average noise (in decibels or dB) they experience over a 24-hour period are:
High Aircraft Noise Area (HANA), 65 dB Ldn
Moderate Aircraft Noise Area (MANA), 60 dB Ldn
Aircraft Noise Notification Area (ANNA), 55 dB Ldn
Every year, Auckland Airport prepares maps (known as Annual Aircraft Noise Contours) which show both the aircraft noise levels permitted by Auckland Council and the noise predicted to be generated over the following 12 months. The most recent set of maps were published in October 2020 and show where noise is predicted to be generated in October 2021.
Aircraft ground movements
Auckland Airport's immediate neighbours may also experience noise from aircraft movements on the ground, including engine testing. Levels of aircraft noise on the ground are closely monitored to ensure they remain below acceptable levels.
How we measure aircraft noise
Aircraft noise is measured using a New Zealand standard which has been especially developed for the task, following international best practice.
Noise levels are recorded in decibels (dB) and averaged over a 24-hour period. A 10 dB penalty is added during night time hours (between 10pm and 7am) to account for sleep disturbance. This means one flight between 10pm and 7am is equivalent to 10 flights during the day, for compliance monitoring purposes.
This average day night measurement of noise is called Ldn.
How we monitor aircraft noise
Auckland Airport has three permanent aircraft noise monitors, installed at Prices Road, Puhinui School and the Manukau Velodrome. We also have a number of temporary, portable monitors to monitor noise in the wider Auckland community. View all the locations of our aircraft noise monitors here.
The monitors record aircraft noise and send the information to our aircraft noise and operations monitoring system, where it is matched with any aircraft in the area at the time using flight track data sourced from Airways New Zealand.
Planning for the future
Auckland Airport is destined to grow significantly over the next 30 years. By 2044, passenger numbers are expected to almost triple to 40 million a year. The number of flights over that time is expected to nearly double to 260,000 a year. This growth will play a key role in the future development of New Zealand and Auckland, especially South Auckland.
Our 30-year vision is to build a world class airport that supports airlines and aviation related businesses to be economically successful and boost Auckland and New Zealand's economies.
To prepare for the growth, we're planning a new combined domestic and international terminal, a second runway, and improved transport links in and around the airport.
As part of our 30-year vision, Auckland Airport has made a submission on Auckland Council's Unitary Plan. The submission incorporates our 30-year vision and the noise contours for the northern runway and its possible extension after 2044. This submission was approved in 2019, with the new noise contours added to Auckland Council's Unitary Plan.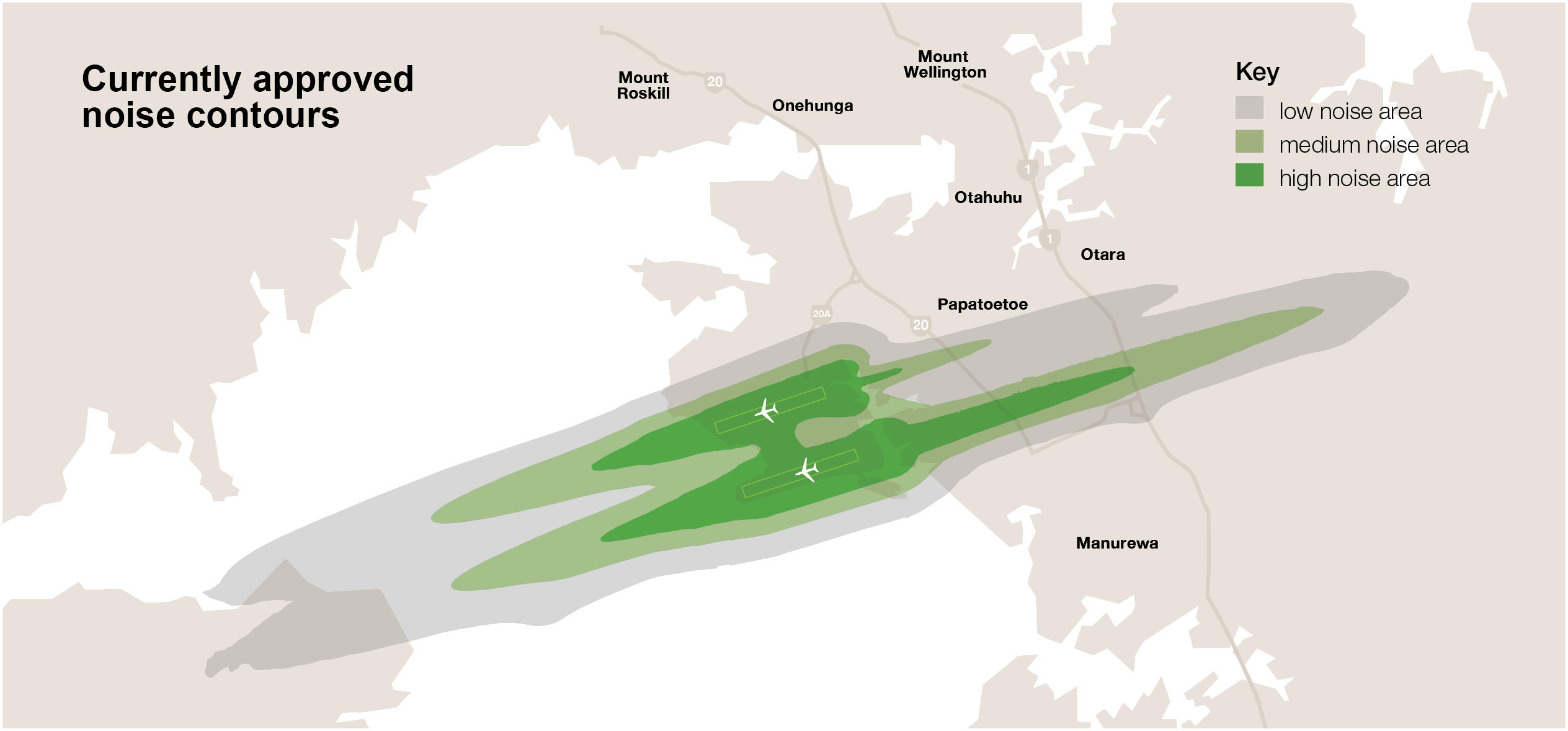 We can delay the need for the northern runway to around 2025 by carefully managing the use of our existing runway.
We are also making a commitment that aircraft will not use the new northern runway from or to the east during the night. These steps will significantly reduce the impact of the noise on the local communities.
Auckland Airport is committed to being a good neighbour and will continue to work with those who are most affected by airport noise.
Click here for more information on our 30-year vision for the 'airport of the future'.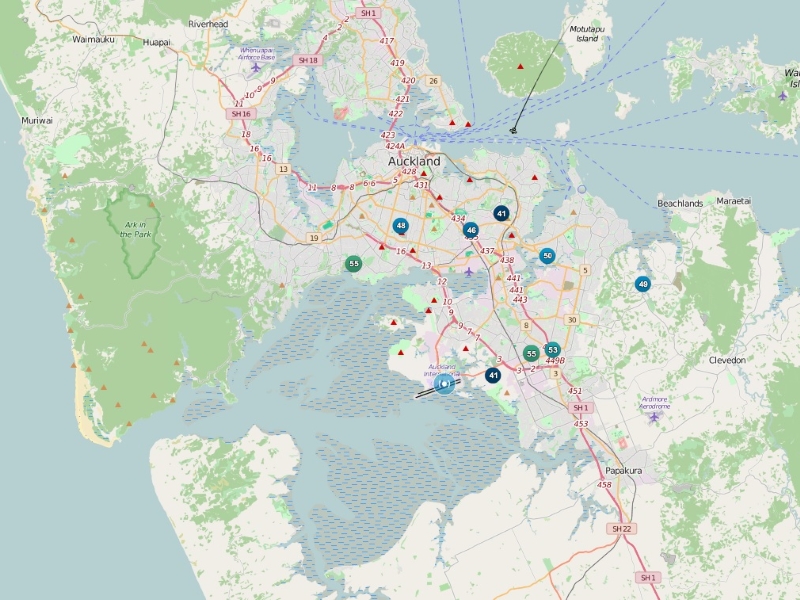 View aircraft using Auckland Airport
Use our online tool to view aircraft traffic through Auckland Airport
---
Find out more