---
2018 Travel Summit save the date
Date: Monday 7 May 2018
Location: Glenroy Auditorium, Dunedin Centre, The Octagon, Dunedin
2018 will be the sixth consecutive year for this event and we look forward to hosting you in the city of Dunedin. A call for registrations and a full programme will be released at later date. In the interim if you have any questions please contact travelsummit@aucklandairport.co.nz.
---

Adrian Littlewood - CE, Auckland Airport
Thank you to all those who attended the International Travel Summit 2017
Date: Tuesday 9 May
Location: Auckland's Hilton Hotel
Auckland Airport connects Auckland with New Zealand and New Zealand with the world.
Our focus on sustainably growing travel markets to improve air connectivity is essential now that tourism is New Zealand's top export sector.
The airport plays an important tourism sector leadership role in ensuring there is sufficient capacity and connectivity to allow the tourism, travel and trade markets to continue to grow.
Every year Auckland Airport brings together travel and tourism industry leaders from throughout New Zealand to participate in an International Travel Summit.
This one day event is an opportunity for the sector to participate in a forum on topics that are of critical importance to the tourism sector.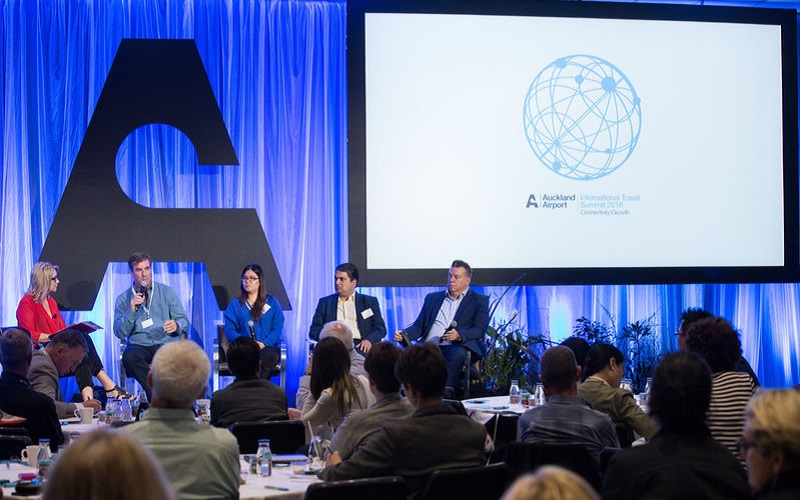 Previous Summits
This is the 5th consecutive year that Auckland Airport have hosted a travel forum, bringing together key tourism leaders from round the country that has been the platform to gain insights on the changing face of the airline, travel and tourism sector, with a focus on New Zealand's opportunity to grow and prosper through global connectivity.