24 October 2019
Former airline industry executive and professional company director Liz Savage has been elected to the Board of Auckland Airport, making it the only company in the NZX top 10 to have a majority of female directors.
"Liz Savage brings a wealth of experience in the airline and travel and tourism sectors and we are delighted to welcome her on to the Board," said Patrick Strange, Auckland Airport's Board Chairman.
"She has extensive leadership and governance experience, and her deep understanding of the airline business will be invaluable to Auckland Airport as the company builds for the future," he said.
Elected at Auckland Airport's annual general meeting yesterday, Ms Savage is the fifth woman to join the Board, made up of eight directors with a diverse range of backgrounds, skills and perspectives. Ms Savage, who replaces director Brett Godfrey, worked for 20 years in senior leadership roles in Australia and Europe, including as Chief Commercial Officer of Virgin Australia during the early transformation of the airline, and Business Development Director of easyJet during the airline's first ten years of growth.
"Auckland Airport is at a fascinating time in its history with more people travelling than ever before," Ms Savage said. "It's a privilege to join an organisation that plays such an important role in New Zealand's community and economy, and I am looking forward to building on Brett's contribution to the Board."
In the workplace, Auckland Airport has continued to advance inclusive and diverse leadership, with female representation in management roles gradually trending upwards in 2019.
In the second annual Diversity Report from Champions for Change, females in management roles at Auckland Airport increased from 30.8 per cent to 34.3 per cent (senior management), key management personnel (12.5 per cent to 22.2 per cent) and other manager roles (27.6 per cent to 36.2 per cent).
"We strongly believe in the benefits of diversity and inclusiveness and while we still have a way to go, we are pleased that we are on the right track and are making progress," said Adrian Littlewood, Auckland Airport's Chief Executive.
"We want our workplace to be one that ensures we have the right people at the table, no matter what their backgrounds, culture, age, gender or experiences, and we are working hard to achieve this."
Auckland Airport is a founding member of Champions for Change, a group of businesses seeking to raise the value of diversity and inclusiveness in the New Zealand business community.
Mr Littlewood said the airport was taking important steps to create a fair and equitable remuneration framework, along with introducing new practices to accelerate diversity.
Initiatives included a new parental leave policy, offering parents greater financial support and flexibility such as two weeks' extra paid leave for the partner of a primary caregiver, along with up to 10 days paid special leave for a mother during pregnancy.
The airport, which employs 730 full-time and contracted staff, has also carried out detailed gender pay gap analysis to ensure any equity issues are identified and addressed. The airport has volunteered to share this data with Champions for Change as part of a pilot to test gender pay gap methodology, a programme involving 20 New Zealand companies.
Ends
Notes:
*The Future Director Programme identifies talented New Zealanders with proven potential to succeed in a governance role and provides them with an opportunity to observe and participate in Boardroom discussions. While the aspiring directors participate in real discussions, they do not have a role in Board decision making.
For further information please contact:
Libby Middlebrook, Head of Communications and External Relations
+64 21 989 908
Libby.middlebrook@aucklandairport.co.nz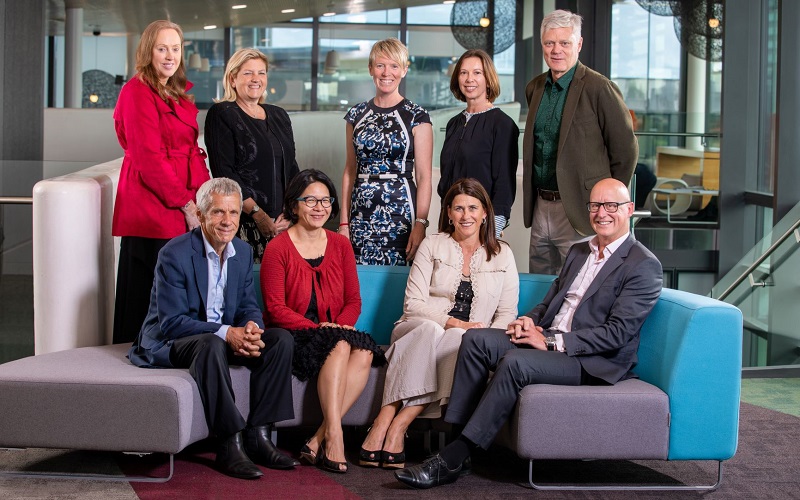 Auckland Airport Board October 2019 – Back row (L-R): Tania Simpson, Julia Hoare, Liz Savage, Christine Spring, Mark Binns. Front row (L-R): Patrick Strange (Chair), Michelle Kong (Future Director*), Justine Smyth, Dean Hamilton