14 October 2014
The Auckland Airport Community Trust has now invested over $3 million into local community projects following its 2014 round of donations.
The Trust, which was established in 2003, receives over $250,000 a year from Auckland Airport and distributes the money annually to South Auckland organisations that support the community through learning, literacy and life skills initiatives.
This year the Auckland Airport Community Trust distributed $300,000 to nine organisations, taking the total amount the Trust has awarded since 2003 to over $3 million.
Dawn Engelbrecht, Auckland Airport Community Trust's Chairperson, says that this latest funding milestone demonstrates the positive impact the Trust has achieved in the community.
"Over the past 11 years the Auckland Airport Community Trust has partnered with a range of charity partners to ensure that the local community is a place where children, young people and families can be successful, particularly in regards to education and employment."
"Granting over $3 million is a significant achievement for the Auckland Airport Community Trust and demonstrates our ongoing commitment to raise the bar in our local communities."
Auckland Airport's general manager corporate affairs, Charles Spillane, says that Auckland Airport is delighted with the role that the Trust plays with the funding Auckland Airport provides. "The work the Trust supports directly and positively impacts our local communities and we are proud to play our part in that," says Mr Spillane.
One of this year's successful recipients is Ngā Rangatahi Toa, who will receive a grant of $9,750 to support their highly innovative youth programme ChangeMakers.
Ngā Rangatahi Toa's programmes use culturally responsive creative arts mentoring to support young people from alternative education or youth that are NEET (not in education, employment or training of any kind). They have a 100 per cent success rate in transitioning young people into employment or back into education.
Also receiving funding this year is Storytime Foundation, whose Books for Babies programme delivers books into low income homes with new born babies. Storytime partners with Well Child providers such as Plunket to deliver the books, ensuring that families are supported to understand the bonding and literacy benefits of reading with their children from a young age.
Storytime Foundation has been supported by the Auckland Airport Community Trust since 2004, receiving over $230,000 in donations. Tony Culliney, Storytime's Chief Executive, says that the support of the Trust has been invaluable to their programme.
"Our Manukau programme has received tremendous support from the Auckland Airport Community Trust over the years. We have an ongoing relationship with Plunket and have already enrolled over 1000 new families in the six months to the end of June, in addition to those already participating at the beginning of the year."
To view a list of all fund recipients or to find out how to make an application for the Auckland Airport Community Trust funding, please visit www.aucklandairportcommunitytrust.org.nz.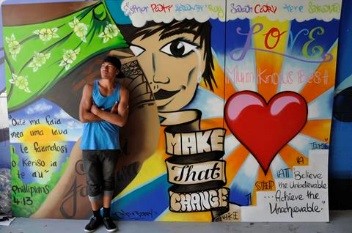 Participant of Nga Rangatahi Toa's programmes in front of his artwork
Ends
For further information, please contact:
Kate Thompson
+64 21 385 446