30 September 2013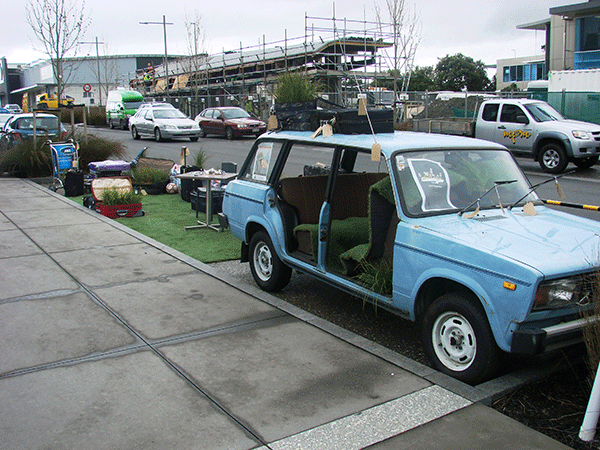 There was one extra green space at Auckland Airport on September 13 when members of The District community turned two parking spaces into a pop-up park to celebrate Park(ing) Day.
The annual celebration began in 2005 when Rebar, a San Francisco-based art and design studio, converted a single metered parking space into a temporary public park in an area of San Francisco that was underserved by public open space. Park(ing) Day has since grown into a global event that aims to call attention to the need for more urban open space.
Auckland Airport's contribution was titled "Lost Luggage" and incorporated a collection of items that had been left unclaimed at the airport, including a Lada station wagon. Passersby were also asked to write a message describing what they would be lost without.
Sean Thompson, Property Business Development Manager at Auckland Airport, says that Park(ing) Day is a great opportunity for the Airport community to enjoy a unique park experience.
"We are delighted to be involved in the eighth year of Park(ing) Day and the first at Auckland Airport. We want to give users of Leonard Issit Drive a unique experience and transform two parking spaces into a one-of-a-kind public park for the day. We're encouraging visitors to relax and enjoy the space during their visit to The District."
And what was it that most people would be lost without? Family, friends and loved ones.
Check out this Youtube clip.