04 February 2013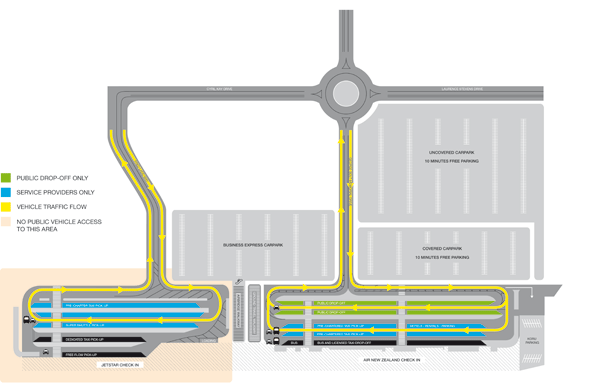 You may have noticed some changes outside the domestic terminal building at Auckland Airport. It's the first phase of a series of improvements being made in and around the terminal and is aimed at improving the traffic flow outside both terminal buildings.
Work started on January 3 and will change where taxis and shuttles stop, as well as where passengers can be picked up or dropped off by their family and friends. It's expected that the first stage will be completed by the end of March.
In the meantime, there are a few things to be aware of, including changes to where taxis and shuttles pick up and drop off passengers, and the fact that you can only gain access to the Jetstar side of the terminal via Cyril Kay Drive. If you're dropping off or picking up family and friends, it's easiest to take advantage of 10 minutes free parking in the nearby carparks.
All changes are well sign-posted and you can check out the new layout on the map below and on the Auckland Airport website. A team of Blue coat volunteers will also be on duty to assist if you need it.