01 June 2012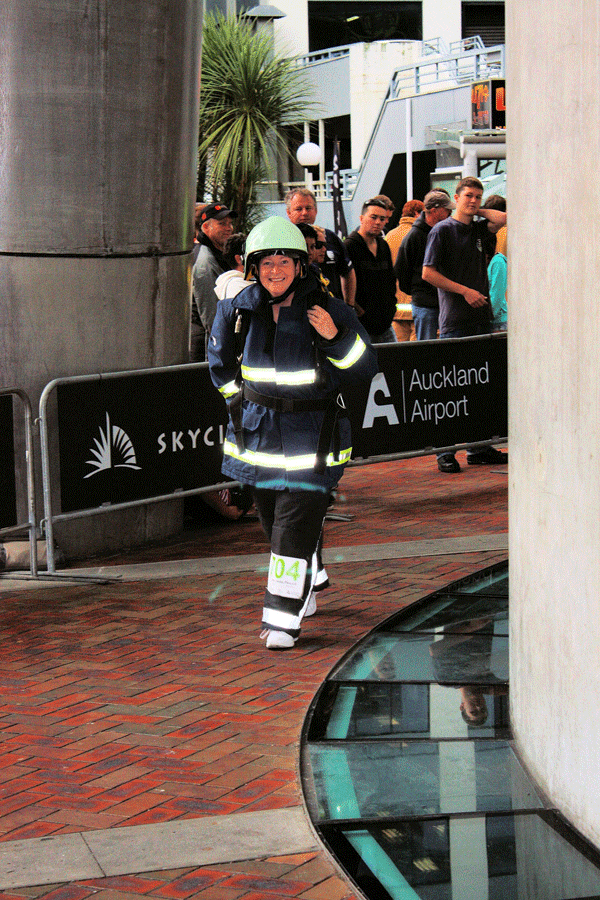 Racing up 1103 steps is never an easy task, but every year hundreds of hardy souls do just that – most of them wearing a full firefighting kit weighing up to 25kg – to raise money for Leukaemia and Blood Cancer (LBC).
Several staff members from Auckland Airport competed in the Sky City Stair Climb, and the airport is also a major sponsor. The 126 teams of firefighters collectively raised over $320,000 this year, and the 17 airport firefighters who competed received a special prize for raising $41,000 of it. The corporate teams raised another $60,000 on the Friday night before the challenge.
Auckland Airport's Mary-Anne Powell (pictured) was one of the brave non-firefighters who donned the full firefighting gear to compete in the Squad Seven race. She managed to get to the top in under 27 minutes, proving the worth of months of pre-challenge training on the stairs and escalators.
The firefighters' team came second in the challenge and the airport's corporate team – composed of Wayne Nichol, Fiona Wright, Michelle Hancock, Jan Frazer and Simon O'Leary – made fourth place overall in their race.
A big thank you goes out to everyone who competed as well as anyone who contributed to the funds raised by the airport's corporate team and collected by the firefighters while training on Auckland Airport escalators.
The money raised helps LBC continue to support patients and their families after receiving a diagnosis of blood cancer or related condition. The firefighter's event alone has now raised more than $1.1 million over the past eight years.