01 May 2012
1 May 2012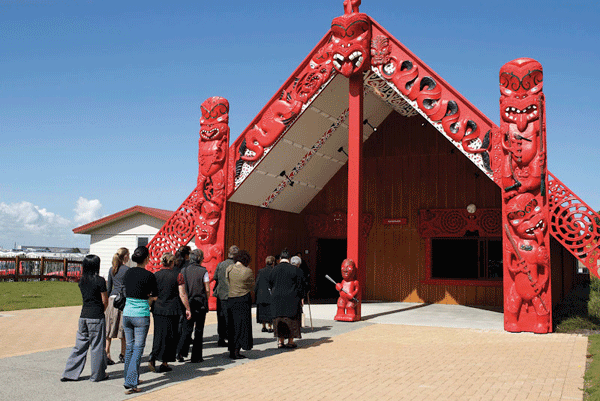 The carvings on Auckland Airport's Te Manukanuka o Hoturoa Marae are getting a touch of TLC just over six years after they were installed in October 2006.
Maintenance carpenter Graham Allen says the carvings on the outside of the Marae were washed down a couple of weeks ago and will be inspected to see how the paint and woodwork has been treated by the elements.
He and his men will need to use ladders and a hoist to reach the tallest examples, almost 8m high, but an initial look has shown the paint is starting to fade off a little, but the timber itself is in very good shape. The interior carvings will also get a wash, but will probably only need a fresh coat of preserving oil.
Te Manukanuka o Hoturoa Marae, located on Uenuku Way in the Auckland Airport Business District, is available for all to share in the Maori culture. The Marae offers an alternative conference venue, school programmes, overnight stays, short stays and can be a gathering place for most occasions.
For more information, or to book the Marae, please contact Ngaire Lasika on 09 255 9059 or email: Ngaire.lasika@aucklandairport.co.nz.