07 December 2012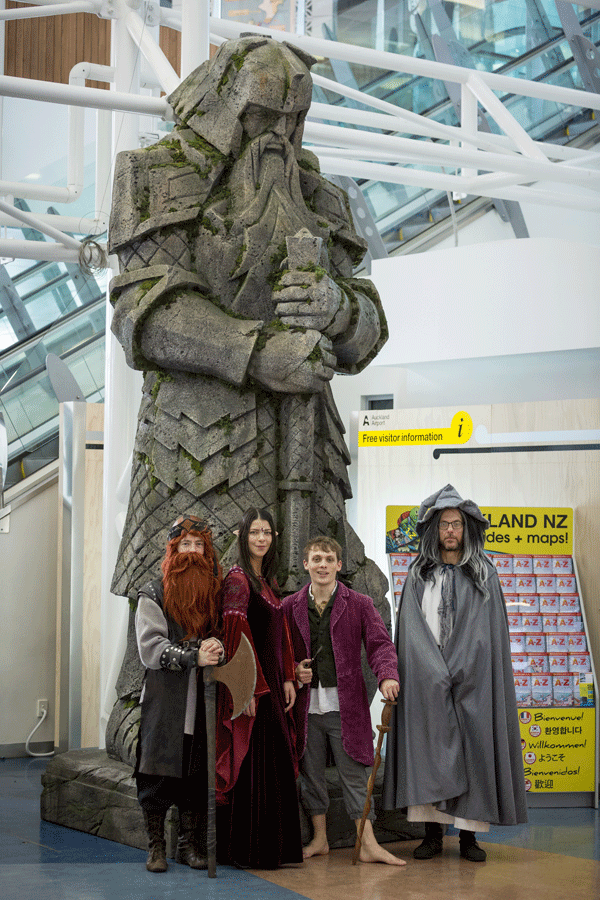 The gateway to New Zealand has been transformed into the 'Gateway to Middle-earth' now that two massive Hobbit-inspired installations have been erected at Orc-land Airport.
The dwarf installation features two 5m-tall dwarf figures and four 6.5m x 3m archways in dwarven architectural design, while the "100% Middle-earth" Tourism New Zealand installation is a 23m lenticular display that blends the fantasy of Middle-earth with the reality of New Zealand.
Both installations were designed by Weta Workshop and support Tourism New Zealand, Air New Zealand and other leading industry players in their efforts to enhance the country's profile as a fun, must-see tourism destination, an innovative and creative nation, and a great place to make films and do business.
Auckland Airport chief executive officer, Adrian Littlewood, says Auckland Airport provides more than 90 per cent of all long-haul visitors to New Zealand with their first exciting taste of the country and it's fantastic to be part of the global excitement and exposure the Hobbit movies will generate over the coming three years.
International media and stars of the film were among the first to see the installations as they began arriving for the world premiere of The Hobbit: An Unexpected Adventure on November 28. They will be on display until March 2013.