07 December 2012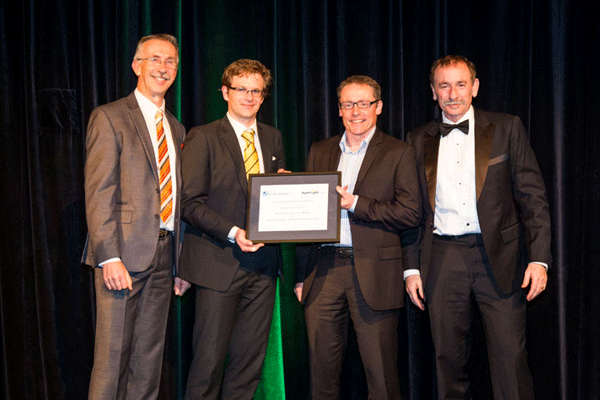 Auckland Airport sustainability advisor Martin Fryer shows off the award with representatives from 0800SaveEnergy, the company that provided the turnkey installation, and the IESANZ.
The Illuminating Engineers Society (IES) of Australia and New Zealand has awarded Auckland Airport's new interactive lighting in the international passenger terminal check-in area with an excellence in energy efficiency at its annual lighting awards.
The project reduces energy lighting consumption by 53 per cent while also improving staff and passenger comfort, and, because the lamps and fittings can be viewed remotely, it also reduces maintenance costs and response.
The IES of Australia and New Zealand's lighting awards are given out each year and each entry is judged on its own merits. The 2012 winners were announced at an event at Auckland's SkyCity on October 26.
Not a company to rest on its laurels, Auckland Airport is now undertaking audits in other parts of the terminal to find the next big opportunities. The company's Energy Management Group is also planning significant upgrades to the heating, cooling and ventilation system in order to deliver huge energy, cost and carbon savings.