04 March 2012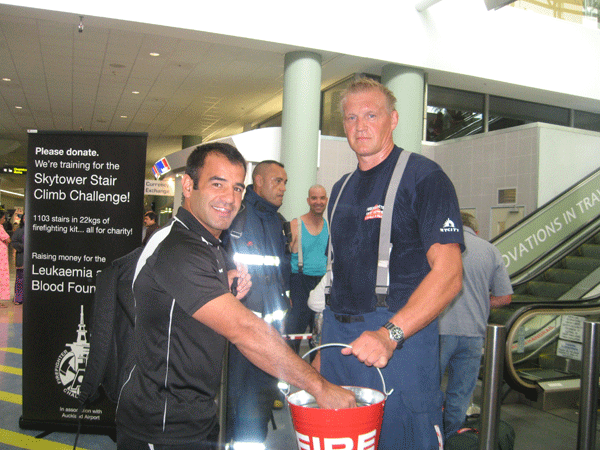 For the past three years Auckland Airport's firefighters have climbed the Sky Tower to raise money for Leukaemia and Blood Cancer New Zealand, using the Airport's escalators to train.
This year they're doing it again, but firefighter Tony Scott says the whole exercise is now a lot more personal after one of the team recently lost his child to the disease.
Twenty-four firefighters are climbing or assisting this year, the biggest team so far, and the fundraising effort is already underway with $5000 already raised in the first of three escalator climbing days.
Tony says they're aiming to raise $30,000, and this year they'll be using a texting system alongside the more traditional donation buckets to help them get there.
The firefighters will be running up the down escalators in the international terminal. "There's no better way to train than to have continual movement, like a treadmill," Tony says. "It goes at 72 steps a minute, which doesn't seem very fast for the first minute, then it gets harder."
Each firefighter ends up doing about 45 to 50 minutes of climbing in total, rotating every 10 to 15 minutes.
Tony says people going through the airport find it easier to be generous because of the effort the firefighters are putting in. Over the past few years they have also used the escalator climbs to raise thousands of dollars for the Red Cross after the Christchurch earthquakes and for the Victorian bush fire victims.
However, Tony does have a message for those who work in the airport, and therefore pass by a lot. "Don't feel like you have to put money in the bucket. We just want your support and that could simply mean stopping and talking to us."
Look out for Auckland Airport's firefighters climbing the escalators on April 20 and May 11, before the Sky Tower climb on May 19.