31 August 2012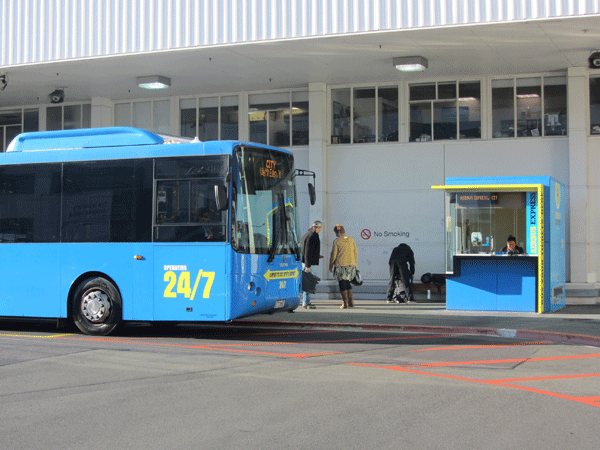 Did you know that as an employee of an Auckland Airport based business you are entitled to ride Airbus Express for just $5!
Airbus Express is a great option for commuters, running seven days a week between Auckland City and Auckland Airport (domestic and international terminals). During peak time 7am-7pm, Airbus operates every 10 minutes on weekdays and every 15 minutes over the weekend.
NEW Staff Fares and ID Requirements as of 1 October 2012
FARE CHANGES:
$5 One Way
$45 Multi-Ride 10 Trip (available from Airbus Ticket Kiosks ONLY)
ID REQUIREMENTS:
From 1 October 2012 to purchase the discounted fare Airport staff must present one of two forms of ID to the Airbus Express Kiosk or Bus Drivers:
Auckland Airport Photo Identity Card
Airbus Express Staff ID – a new ID specifically for staff who do not hold an official Airport Identity Card
HOW TO GET AN 'AIRBUS STAFF ID'
Available from ADT offices from Wednesday 5 September 2012
ADT Offices are located at the Domestic Terminal, under the covered short-term car park
Opening hours: Monday to Friday 9am-12pm and 1pm-4pm
To receive an 'Airbus Staff ID' you must supply the following validation at the ADT Office:
- A form of identification (driver's license, passport, photo ID)
- PLUS proof that you are a current employee of an Auckland Airport based business.
This could be a recent pay slip, or a signed letter from your manager on company
letterhead.
The 'Airbus Express Staff ID' will be valid for one year from date of issue and costs $7.
ENQUIRIES
If you have any questions about the Airbus Express service email stopthebus@airbus.co.nz and visit www.airbus.co.nz for bus route and time table.
To find out if your business is eligible for Airbus Staff Discounts email trish.cochrane@aucklandairport.co.nz