31 August 2012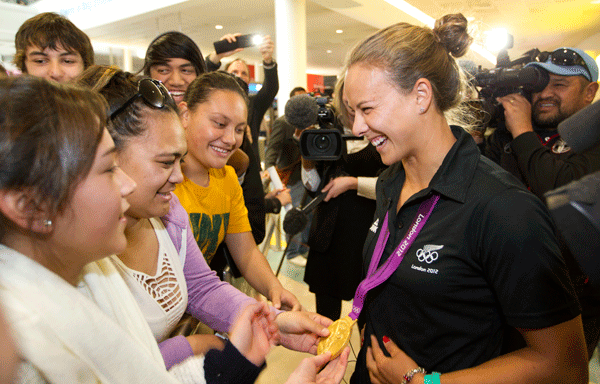 New Zealand's medal-winning Olympians received a hero's welcome when their flights landed at Auckland Airport in August.
Led out into the arrivals hall by gold medal-winning sailors Jo Aleh and Olivia Powrie, the virtual parade of gold, silver and bronze-medallists thrilled the hundreds of Aucklanders who had been gathering since the "golden flight" from London via Singapore landed.
Media and fans alike mobbed the group, which included crowd favourites Mahe Drysdale, Hamish Bond and Eric Murray, their multi medal-winning rowing teammates, the silver medal-winning 49er pair of Peter Burling and Blair Tuke, and fourth-placed women's Black Sticks Hockey team.
The cycling team – including bronze medal-winner Simon van Velthoven, BMX's silver medal-winner Sarah Walker and the bronze medal-winning men's pursuit team – had arrived earlier that morning and gold medal-winning kayaker Lisa Carrington arrived a week later, also to a rapturous welcome.
New Zealand won 13 medals at the London Olympic Games and all but Valerie Adams and her belated gold were on display at a special welcome home parade in Christchurch at the end of August.