04 March 2012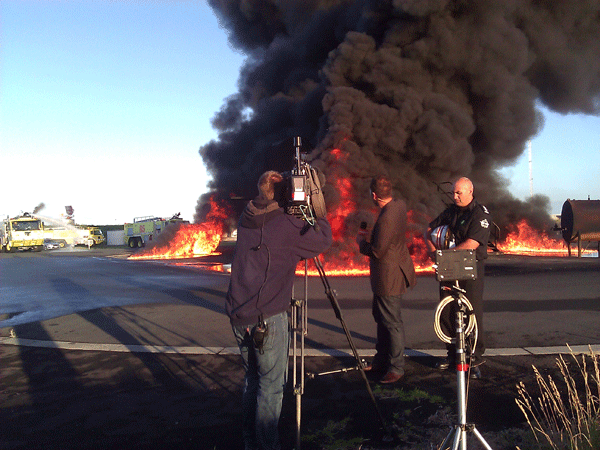 Airport Emergency Services (AES) play a vital role at Auckland Airport – both on land and on water – but the services they provide are more varied, and their operational area much wider than a lot of people realise.
The 52-person service is split into three sections – marine search and rescue, medical emergencies, and fire/rescue. Each team is on call 24 hours a day, seven days a week, 365 days of the year, and together they receive more than 3000 callouts a year.
Almost 80 per cent of AES callouts are medical in nature, ranging from heart attacks, strokes and asthma attacks through to dehydration, exhaustion and other minor traumas. But the number of international passengers coming through the airport also means they have had to deal with stingray stings and scorpion and spider bites picked up overseas.
As part of their training the medical team work closely with St John to deliver hospital care before the ambulances arrive.
The marine team has an 11m Griffon hovercraft – the only one in New Zealand – in their toolbox, and they regularly assist the local Coastguard unit and the Police in at-sea rescue operations, shoreline search and rescue, and body recovery on the Manukau Harbour.
But it's the fire/rescue elements of the AES that are the most prominent and visible to the public. Their dedicated fleet of 10 fire and rescue response vehicles includes 29 and 39-tonne foam trucks.
While they are trained to handle any on-aircraft incident, they also respond to a number of other search and rescue, fire and emergency situations in the surrounding community, and work closely with the local fire departments.
The Airport Rescue Fire Fighting service also operates an on-site world-class fire training school, and regularly host overseas fire fighting brigades in joint training.
And now you can add another string to the AES bow – TV stars. The unit featured on TVNZ's Breakfast show last month, as weather presenter Tamati Coffey got an inside look at what the unit does, their resources and the people who staff it.
Ends