28 September 2011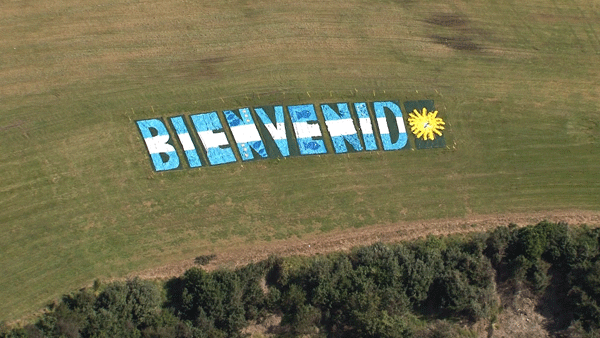 The 20 teams competing in the Rugby World Cup received a welcome with a difference as they flew into Auckland Airport – giant, personalised welcome messages in their own language, as well as Maori.
The 8m x 4m letters have been made by students from local schools using a multitude of materials including jandals, flax, and recycled plastic bottles. The longest welcome is for the Georgian team at an impressive 63m long.
The welcome words have been placed under the international and domestic flight paths as part of the Auckland Council's HeART of the Nation programme, which is part of the larger, government funded REAL New Zealand Festival 2011. The best installation will win $2500 for the students' school.
Former All Black Joeli Vidiri and artist Koloamatangi Klavenes will pick the winner, basing their decision on innovation in design, creativity and the students' ability to include recycled materials.
Lucy Thomas, manager for insight and advertising, says it was a great way for the airport to get involved in a more unique welcome. She also acknowledges the support of Joe Sinclair who leases the land where some of the letters are installed.
"The biggest issue was making sure the cows didn't eat the letters!"
Welcome Words are brought to you by Auckland Council in partnership with the Manukau Beautification Trust.
For the full programme of festival events visit www.heartofthenation.co.nz.