06 September 2011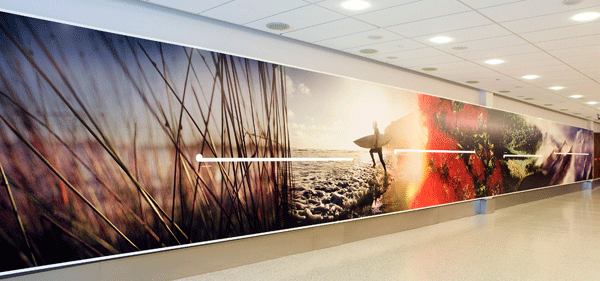 The 10,000 people arriving at Auckland Airport every day and the 6000 people who greet them will notice something different and distinctly Kiwi about the arrivals areas from this month.
For arriving passengers it starts with the welcoming call of the Karanga as visitors walk through the Maori carving and step into a complete sensory experience. The walls boast a series of beautiful, contemporary New Zealand images complemented by recorded sounds such as cicadas, bird song, children playing in the sea, sheep, dogs and waves crashing on the shore.
The natural soundtrack is triggered by people moving through the area.
Things have also changed on the other side of the doors. Those who are waiting to greet loved ones spend an average of 33 minutes inside the airport, so it makes sense to create an environment that is pleasant to spend time in.
The brand new Samsung digital screens above the doors present moving footage showcasing images of New Zealand grassroots rugby to celebrate the Rugby World Cup, and the retail area has been enhanced with a new café called the Long White Cafe