01 April 2011
Congratulations Auckland, we've done it again!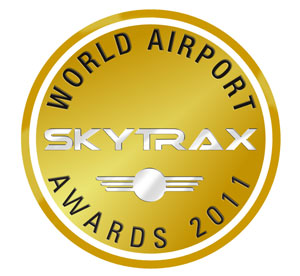 Auckland Airport has been named among the best in the world in the annual Skytrax World Airport Awards.
The airport elevated its ranking and was voted the 8th best airport in the world and was also named as the Best Airport in the Australia/Pacific region.
"It's wonderful to see our diligent effort of improving the passenger experience be recognised again" says Auckland Airport marketing manager Sarah Aldworth, who attended the awards ceremony in Copenhagen, Denmark, at the end of March as part of the Passenger Terminal Expo. "This award is full credit to the 12,000 people who work across the airport delivering the friendly Kiwi world-class service. We are also immensely grateful to all the travellers who voted for us. "
The World Airport Awards enjoy the highest level of credibility amongst the world's air travellers and airports around the globe. Covering more than 240 airports worldwide, they are based on the results of surveys completed by more than 11 million travellers.
"It's not just a popularity contest," says Edward Plaisted of Skytrax. "The questionnaire is designed in such a way as to identify the best airports across a wide spectrum of topics."
More than 50 awards were announced, including, for the first time, awards for the Best Regional Airports, and a new category for the Best Airport Hotels around the world.
Auckland Airport came ninth in last year's awards and 10th the year before, and has also held the title of Best Airport in Australia/Pacific for the past two years.