02 June 2011
Auckland Airport fire-fighters took out third prize in the annual race to the top of the Sky Tower – but the top honour was theirs alone when it came to raising the most money.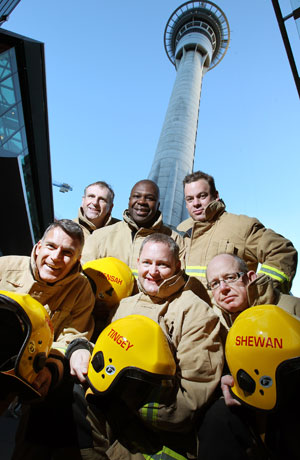 The team of 17 raised $26,154 for the Leukaemia and Blood Foundation out of a total of more than $170,000 raised by everyone who took part.
Airport fire-fighter Tony Scott says it was a great day for a great cause. "We did really well considering what New Zealand has gone through this year with the Christchurch earthquake so it was an amazing effort," he says. "People just loved it and everyone was vowing to come back again next year."
Auckland Airport strategic communications advisor Andrew Pirie also took part in the event for the first time this year, wearing full fire-fighting gear. "The whole event was fantastic, from the race up the tower in the morning to the dinner and prize giving that night. Auckland Airport has been a key sponsor of this event for several years and we're delighted to help with the fundraising efforts for the Leukaemia and Blood Foundation," he says.
Now in its eighth year, the Sky Tower Challenge sees firefighters from all over New Zealand don 25kg worth of gear, full fire-fighter's kit and breathing apparatus, before racing up the 1103 steps of the Sky Tower.
This year's fastest time came from Josh Harrison of Otara Station with a time of 8 minutes 45 seconds, creating a new record for the gut-busting event.