28 September 2011
Ten local schools and clubs received great news when they were told they were the chosen recipients of Auckland Airport's Gold Medals, and would be receiving a share of $25,000 worth of funding.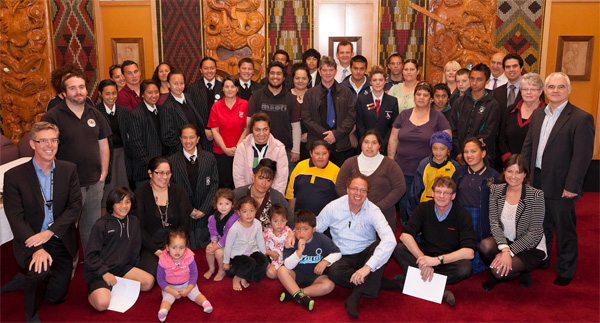 The decision was a hard one. In just its second year, Auckland Airport's Gold Medals attracted 80 applications, each of them worthy of recognition in their own right.
The awards are open to sporting clubs, schools and Marae looking for funds to purchase sports equipment, or pay for coaching, training, or travel and accommodation costs for sporting events.
Representatives from the 10 winning groups took part in an awards ceremony on September 30, with some of the schools performing songs or waiata.
The winners are:
• Oaklynn Special School: A school for students with high or very high special needs. The money will be used to buy equipment for a New Age Kurling programme.
• Southern Cross College: the money is to be used to purchase mountain bikes and helmets for the students to use in PE classes and also to learn about road safety and bike maintenance.
• Te Kura Maori o Nga Tapuwae: the money will be used to buy a Ki o Rahi equipment set to replace their current makeshift equipment.
• Te Rahuitanga Te Kohanga Reo & Marae: the money will be used to buy a Waka Ama (Polynesian outrigger canoe).
• Kelvin Road School: the money will be used to seed a soccer tournament.
• Riverhead Primary School: funds will be used to purchase high jump and long jump equipment, which they currently have to borrow.
• Manurewa Amateur Swimming Club: the funds will be used to fund a swim camp to prepare their members for the national swimming competitions.
• Air Raiders Basketball Club: a South Auckland basketball club that will use the funds to buy uniforms for they players.
• Rutherford College: the funds will purchase new rugby goal post pads and also rugby balls for the school.
• Papatoetoe Association Football Club Inc: the funds will buy new equipment for their young members aged 4-8.