12 September 2011
Auckland Airport joins with Rugby World Cup sponsors to welcome the world.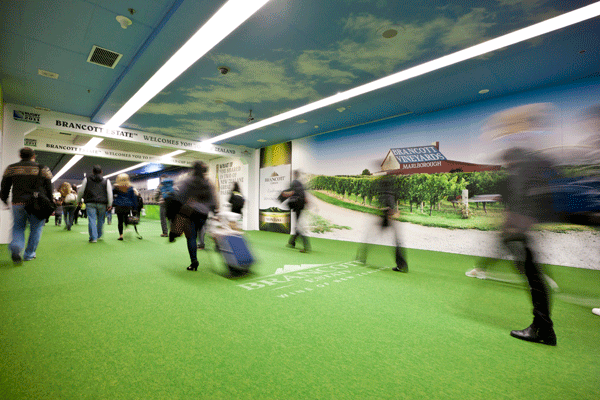 Auckland Airport is joining with Rugby World Cup Sponsors to welcome rugby fans to its terminals, with international visitors stepping off the plane into a virtual vineyard courtesy of Brancott Estate - Official Sponsors of RWC 2011.
The spectacular vineyard setting, which stretches across both arrivals halls and extends onto the travelators, walls, floors and ceilings, will welcome guests arriving from now until the end of October. It is organised on behalf of Brancott Estate by media company EYE and creative agency PIM.
The impressive display is part of a number of activities at Auckland Airport from RWC 2011 sponsors. Visitors can also experience Brancott Estate's stadium welcome tunnel at Pier A complete with crowd cheering audio on motion sensors, Toshiba's internal aerobridge advertising and DHL's domination of the international arrivals baggage claim.
"We see our role in 2011 as delivering a seamless airport experience as well as supporting and celebrating this opportunity for New Zealand. We want to play our part and provide a great impression for visiting fans and players," says Adrian Littlewood, Auckland Airport's GM – Retail and Commercial.
"A lot of the new-concept advertising allows visitors to get involved with New Zealand's major rugby event from the moment they arrive, and brilliantly showcases some of the official sponsors of RWC 2011."