06 September 2011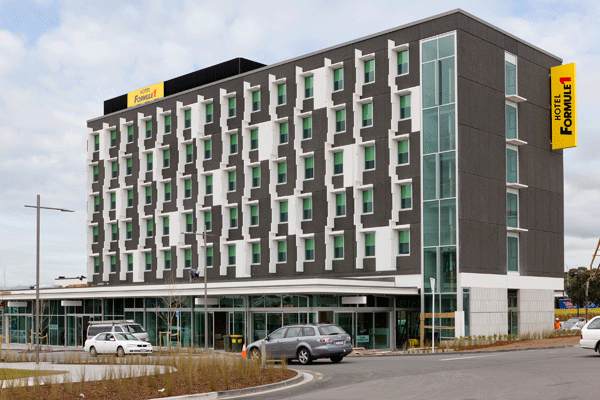 Monday August 29 saw the opening of the latest hotel in the Auckland Airport area – Formule 1.
The 125-room hotel is run by the Accor Group and was a joint design and delivery project between airport staff and Accor's design team. "The two teams worked extremely well together and have achieved an outcome of the highest standard," says Auckland Airport property manager Adam Tyrie.
The building's overall design had to fit with Accor's strict global design and acoustic standards, and is constructed of exposed aggregate concrete panels, with additional paneling acting as solar shading.
Now attention has turned to the ground level foodcourt. This will include a pub, café, sushi-noodle bar, mobile phone provider and a salad/sandwich bar, all of which are due to open this month.
The launch of the first new-build Formule 1 in New Zealand is part of a major new accommodation and hospitality complex at the airport that also includes fast-food outlets, a bar, and mobile phone store. Formule 1 is Accor's purpose-designed budget brand that is already present in countries across Europe, South America, South Africa and in Australia. The brand is also set for major expansion in Asia. The hotel will provide the ultimate in reliable, contemporary accommodation at the highly affordable rate of NZ$79 a night (for up to two people).
"The Formule 1 will be the perfect starting point for international visitors wanting to put together all the ingredients for a drive holiday around the country," said Firoze Wadia, F1 Auckland Airport General Manager.
"The opening of the Formule 1 in time for the Rugby World Cup will be a great benefit for Auckland, but in the longer term the benefits will be even wider. As the only other hotel on airport land other than the Novotel, we will help establish Auckland Airport as one of the most significant hubs in the Asia Pacific region."