28 September 2011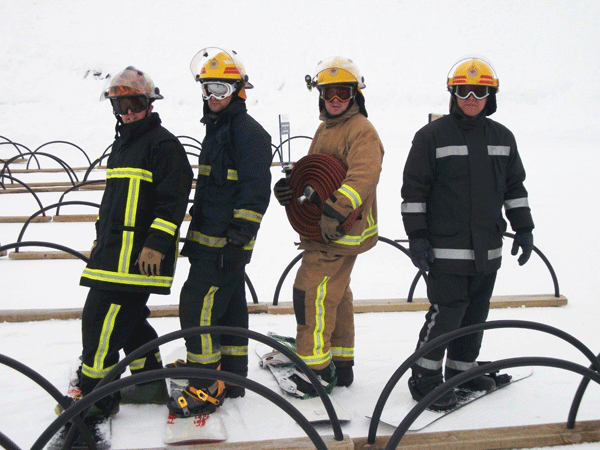 Two teams of Auckland Airport firefighters put their fitness and technique on the line at the inaugural Firefighter Chill Factor Challenge – snowboarding down Coronet Peak in Queenstown as many times as they could in two hours.
The catch: they were attached to a fire hose the whole way down.
The Challenge, held on Friday August 26, was organised by Auckland Airport firefighter Tony Scott and raised $2000 for the Bruce Grant Youth Trust, a Queenstown charity that helps youth undertake sporting, arts or cultural activities.
The firefighters were sponsored for each downward run and hundreds of people got into the spirit of the day, waiting at the finish line outside the Coronet Peak café to cheer the firefighters on.
Tony says the day was fantastic and full of fun. "I'm really impressed with the effort all the boys put in. The Trust was over the moon when we handed over the money and I think one of the most important outcomes of the event was the awareness raised for the Bruce Grant Youth Trust."
The day was so successful that Tony plans to make it an annual event.