01 March 2011
Christchurch has been hit for the second time with a major earthquake disaster, and like everyone else around the country, Auckland Airport has been doing everything it can to help ease the plight of those affected.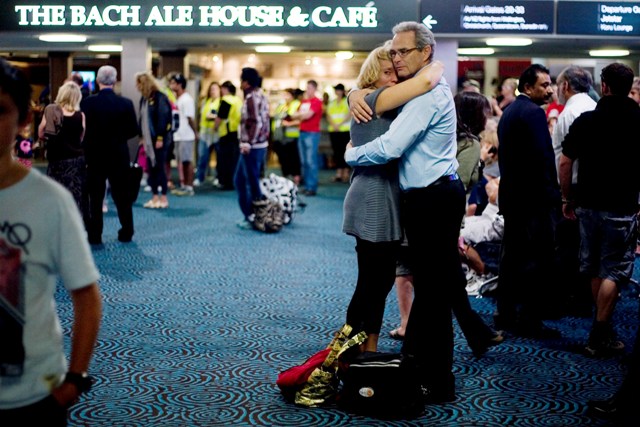 A woman hugs her partner after flying into Auckland Airport from Christchurch
Photo courtesy of NZ Herald
Apart from the immediate emergency response, Auckland Airport will also be setting aside a significant amount of resources to work with the relevant tourism agencies over the next year to assist in the economic recovery of one of New Zealand's key visitor destinations, and to help the tourism industry down there recover.
Operations staff worked long hours in the days following the earthquake, remaining on hand to help with the overflow from Christchurch Airport, which was initially forced to close completely to all flights.
For those passengers who were stranded and unable to get back to Christchurch, Auckland Airport was able to open the Watea room at the international terminal, and provide blankets and mattresses, so they wouldn't have to spend the night on an airport seat.
When domestic flights started bringing tourists and other passengers from Christchurch into Auckland, extra staff were on hand, including victim support and Airport Emergency Services, ready to assist those coming off the planes who were in shock and still reeling from the experience.
As for ongoing help, Auckland Airport has sent airport crew to help Christchurch Airport cope with the repercussions of the disaster, and has also set up collection points for donations around the two terminals, for any travellers who wish to donate money towards the disaster relief fund.
Auckland Airport will continue doing everything it can to assist Christchurch Airport, and the people of the region.
Our thoughts are with the people of Christchurch dealing with the devastation this second earthquake has caused, and our condolences go out to those who have lost oved ones at this terrible time.
Ends