05 December 2011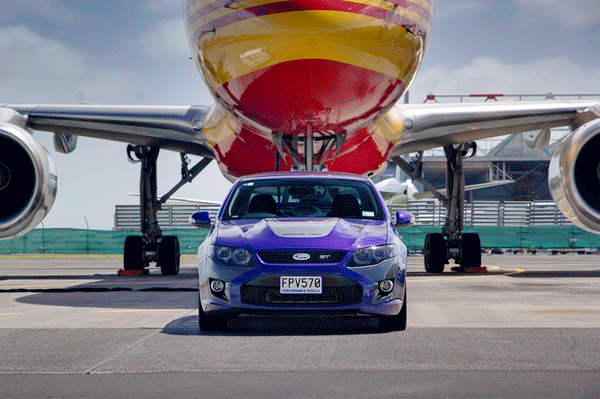 David Barratt thought he'd taken the competition brief a little too far when he said he wanted to get a photoshoot of his car in front of a DHL aeroplane at Auckland Airport.
The Facebook competition was run by Final Touch, a stone chip repairs and valet company that sponsors David's 'NZ Ford Enthusiasts' club. All he had to do was post a picture of his car along with his suggestion for a "hard to accomplish" photo shoot.
"I was totally amazed when I won," David says. "There were so many great entries and I figured that my photoshoot would be way too hard to pull off so they wouldn't look at it."
After all, you can't just drive onto airport property and take a few snaps. Once David's entry was picked as the winner, he needed the help of DHL Express, Tasman Cargo and Auckland Airport Aviation Security to get the necessary authorisation.
"I wanted to have it shot in front of the DHL plane because I have worked for them for just under 21 years and thought it was a great way to thank DHL for all they have done for me over the years and how proud I am to be working for them."
David is really happy with the final photos and says he would like to thank everyone who was involved in making the shoot happen for him: Final Touch for putting up the prize; Victor Yuen Photography; and NZ Ford Enthusiasts Forum.