28 June 2010
It took just one week to get results from a group of representatives from Royal Brunei Airlines who participated in a familiarisation tour of New Zealand recently.
Auckland Airport route development manager Matthew Findlay says about 20 people who sell New Zealand holidays to travellers from Hong Kong, Philippines, Singapore and Malaysia were invited for a five-day tour visiting New Zealand tourist spots like Rotorua, Waitomo, Taupo, the Bay of Islands and Auckland.
The tour had such an impact on one guest from Hong Kong that he sold 25 holidays to New Zealand within days of returning home, says Findlay.
The tour participants all sell for Royal Brunei Airlines, which started flying direct between Auckland and Brunei, a small country near the Philippines, in March. Previously flights to Brunei went via Brisbane. Flights to Brunei connect to many Asian countries including Vietnam, China and Thailand.
Check out Royal Brunei for yourself at www.bruneiair.com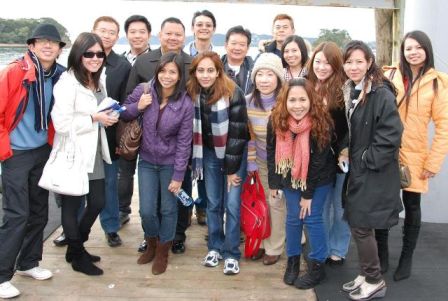 The tour group enjoy a photo opportunity before boarding a boat for a tour of the Hole in the Rock.