01 March 2010
March is an exciting month for Auckland, with some amazing events taking place around the city. Don't miss out – get on a plane, through Auckland Airport and join in the action!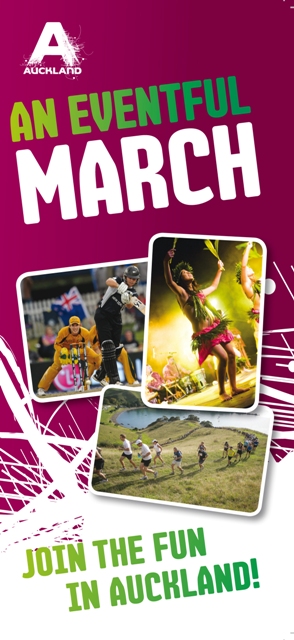 Auckland Festival of Sailing
2-25 March
Three prestigious international sailing events in the Waitemata Harbour – the Omega Auckland Match Racing Regatta, the Louis Vuitton Cup, and the BMW Sailing World Cup Final – make up the three weeks of this exciting sailing festival. Visitors to the events can expect loads of action in and around the water, including free spectator boats for two of the weekends.
Auckland Cup Week
6-13 March
Dress up and spend a week among the glamour and celebration of Auckland Cup Week. Fashion, style, glamour – oh and there might be some horse racing as well!
BLACKCAPS v Australia – ODI
6 March & 11 March
The BLACKCAPS go head to head with Australia for the Chappell-Hadlee Trophy. Will New Zealand be able to beat the one day current champions? It's worth a day in the sun watching the batting action to find out!
Pasifika Festival
8-13 March
This huge cultural festival attracts more than 200,000 people, and is so popular that this year it's extending to a multi-day event. The big day is still Saturday March 13 at Western Springs, where Pacific communities come together to celebrate through food, dance, music and arts.
Ports of Auckland Round the Bays 2010
14 March
If relaxing by the water isn't your style, you might be keen to take on the Round the Bays fun run. The event was started in 1972 by the Auckland Joggers Club and attracted 1200 people; these days it boasts 40,000 registered runners and an estimated 70,000 participants who run, jog and walk the 8.4km course, making it one of the world's largest fun runs.
Louis Vuitton Trophy
9-21 March
Part of the Festival of Sailing, the Louis Vuitton Trophy deserves a mention on its own. The trophy, which involves eight of the world's best sailing teams racing against each other on the Waitemata Harbour, inspired the newly created Louis Vuitton Trophy series, an international yachting series to designed to match the America's Cup. Visit the Louis Vuitton Trophy Village in the Viaduct, and score a spot on the free spectator boats to get even closer to the action.
For any more information on any of these events see www.aucklandnz.com