02 June 2010
Nettie Norman says she has the best of both worlds as the Auckland Airport Marae coordinator and school programme coordinator.
She has always had a keen interest in the tourism industry and has a background as a cultural performer at Auckland museum for the past 10 years. Additionally she's right at home in the marae environment.
Nettie says the airport marae is different to others because the tribal people and the airport company run it. "It is a place for everyone, no matter what culture. Even if you are not Maori, it is a place you can come and call your own and feel comfortable," she says.
The marae has multiple uses – corporates use it for conferences, a church group meets there regularly and sports groups use it as a meeting point. Sometimes Maori families bringing deceased love ones back to New Zealand from overseas gather at the marae until everyone is ready to move to their home marae.
However its main purposes is educating people about marae protocol and the powhiri (welcome ceremony) in particular.
After settling in to her marae coordinator role, Nettie was approached to coordinate the airport's schools programme. She has redeveloped the programme with the help of community relations manager Zella Morrison.
The programme attracts a range of groups, from tertiary students studying tourism who have a tour of the airport and learn about careers, to kindergarten or preschool children who just want to see the planes. They look out at the tarmac from the Watea Room, build paper planes and do colouring projects. Nettie is planning to encourage more school groups from the intermediate and secondary education levels to visit the airport.
Nettie says the tours are free and take about an hour. She is also networking in the community to increase the number of people using the marae.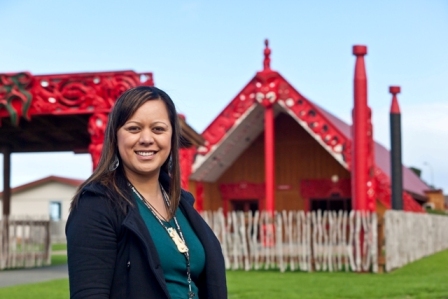 Ends