25 November 2010
The Rugby World Cup is the third biggest sporting event in the world and it's being promoted on a grand scale at Auckland Airport.
As part of MasterCard's World Cup promotions, a brightly coloured billboard went up in early October: measuring a whopping 46.5m x 2.7m, it's the largest internal billboard site in Australasia.
It's certainly impossible to miss the giant-sized washing line with all the rugby jerseys that wraps around the international baggage claim area.
The giant billboard is a joint initiative between the airport and its media supplier, EYE.
EYE's New Zealand concession manager Keri Ring says the billboard, which is almost as big as an outdoor site, demonstrates the sense of domination and impact that sponsors want for the World Cup.
"It's like 'wow'," he says. "And it's great that MasterCard was the first cab off the rank with this large-scale campaign."
MasterCard, an official World Cup sponsor, also has an enormous decal on the floor in the baggage claim area that represents the playing field, and a wrap that states how priceless it is to have the World Cup in our own backyard.
"Expect to see more of this sort of dynamic and exciting advertising coming to Auckland Airport over the next 12 months as we head towards the Rugby World Cup 2011 event," says Keri.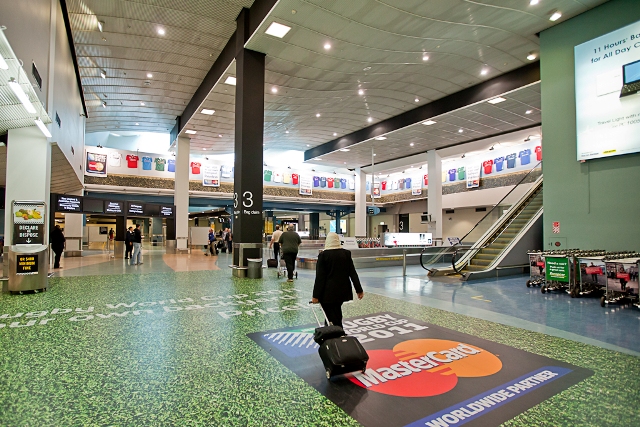 Ends