21 June 2010
Jetstar's new daily flights between Auckland and Singapore will not only give Kiwis the opportunity to get to Singapore for a lot less, they will also open up opportunities for critical expansion into the Asia market for New Zealand.
The airline announced that it would be operating daily direct flights between Auckland and Singapore, commencing 17 March 2011. The routes will use new A330-200 planes, which will be based in Singapore, and the airline says some of the introductory fares could be as low as $100 one way.
Auckland Airport chief executive Simon Moutter says the move is consistent with the airport's own goal of investing further into building sustainable high growth markets out of Asia. "With one of the first Jetstar wide-body long haul services connecting from Auckland to Singapore, the low-cost carrier model is now being successfully applied to longer haul destinations," says Simon. "It's a very important development which we believe offers the New Zealand tourism industry a fantastic opportunity to link up with the rapidly expanding low-cost carrier network and markets in Asia."
Jetstar's daily service to Singapore will provide an extra 200,000 seats per annum, providing a significant leap in passenger numbers for Auckland Airport.
The new services to Singapore connect with Jetstar flights to China, Vietnam, Thailand, Malaysia, Philippines, Indonesia and Taiwan. "This will not only benefit New Zealand tourism and trade but will provide New Zealand travellers with greater choice," Simon says.
Jetstar Executive Manager Operations Mark Dal Pra says that the move is designed to strengthen the airline's operations. "Jetstar continues to spread its wings out of New Zealand, Australia and increasingly pan Asia and this new daily service will bring unprecedented new opportunities, through lower fares, to drive more travel between Auckland and Asia," Mark said.
The new services will support major New Zealand tourism initiatives, including next year's 2011 Rugby World Cup. "Auckland Airport is very proud to be associated with the successful and ambitious growth story of Jetstar," says Simon.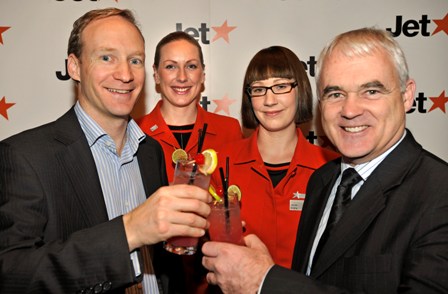 Copyright: Chris Miller
Ends