05 July 2010
Need a high-quality gift or a beautiful bunch of flowers? Look no further than The Florist.
Located between the Hollywood Bakery and NZ Post Training Centre at the Airport Shopping Centre, The Florist is open Monday to Friday 8.30am to 5.30pm and Saturday 10.30am to 2.30pm. You'll get fabulous service from owner Rhonda Collins or her sister Lorraine.
Rhonda says she loves stocking her shop with New Zealand-made products including Simunovich Olive Estate's Tebe and Olive ranges, Wild Country chutney and syrups, Wild Appetite jams and jellies, Molly Woppy biscuits, an extensive range of baby products like toys and blankets and Jenz Studio Ceramics. "I am a bit of a shopper so this is an outlet for me," Rhonda says. "We have something different and cater for the interests of travellers from overseas and the locals."
Rhonda completed a floristry course at what was then known as Carrington Polytechnic.
The Florist's blooms, from an auction in Mt Wellington, are fresh on Mondays, Wednesdays and Fridays. Irises are in season at the moment and they're Rhonda's favourite flower, so she's always happy to create a beautiful bouquet using the unique bloom.
To order flowers or for more information go to her website today - http://www.theflorist.co.nz/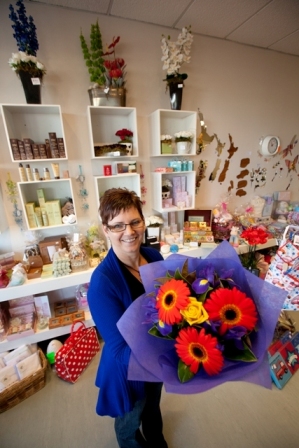 Ends