23 May 2010
Twenty-five kilograms of equipment, 1103 steps and buckets of money – Auckland Airport Rescue Fire raised close to $20,000 for the Leukemia and Blood Foundation after climbing to the top of Auckland's Sky Tower as part of the annual Firefighter Sky Tower Challenge. The total amount raised by all contributors was a record $193,000.
Top performers in the Auckland Airport Rescue Fire team were Josh Nicholls who was the first team member to reach the top and ninth overall with a time of 11 minutes and seven seconds. Stuart Graham, who came second in the masters' category (over 40 years), was close behind with a time of 11 minutes and 58 seconds.
Sustainability advisor Martin Fryer took the once-in-a-lifetime opportunity to participate after being invited to join the special squad chosen by sponsors. His finishing time was 12 minutes and 18 seconds.
"I go running so I have a reasonable level of fitness but by the time you get up to those last few flights, it feels like there is not enough oxygen in the air to get you there," Martin says. "At the top you are too exhausted to enjoy the moment. You are handed an isotonic drink and all you can do is sit there and gasp for breath for a while to recover. I came out with a total respect for the firefighters doing it wearing full kit. You just can't imagine how difficult it is until you have done it yourself."
Auckland Airport chief operating officer – aeronautical, Tony Gollin, competed in full firefighting gear and achieved a time of 21 minutes and eight seconds.
Event organiser Tony Scott says he is very proud of all the Auckland Airport firefighters who participated. "Thanks to the airport company for support with the fundraising campaign and for sponsoring the event," he says.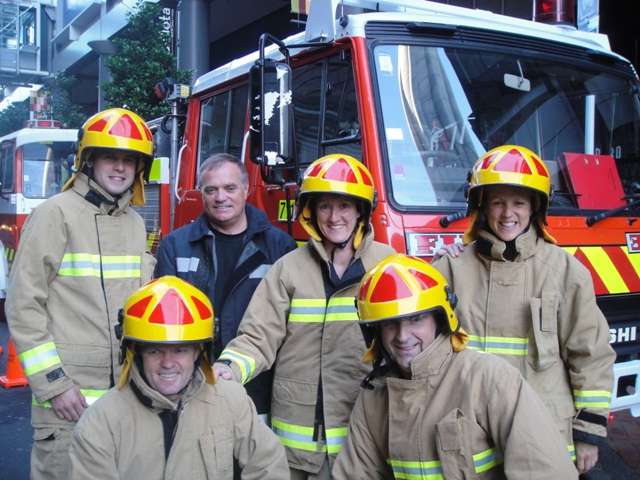 Ends