29 March 2010
Scar and Goldie, Auckland's two huge Saltwater crocodiles, have really settled in to their billabong home at Butterfly Creek - Auckland Airport, and are now wowing the crowds twice a day with the Aussie Croc Encounter show.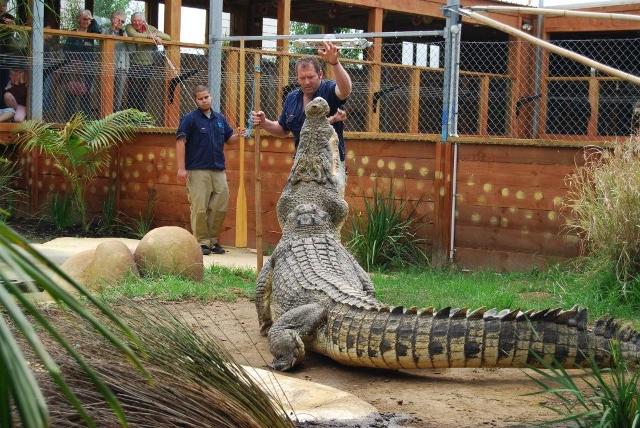 The brave croc keepers get up close with the boys to get them active, moving round the pools and stalking their prey. They get them working hard for their food, which provides great behavioural enrichment for the animals and gets the audience's hearts racing as the crocs launch themselves out of the water to grab meat from a pole….or even from the hand of Head Keeper, Brian Copland.
"Crocodiles are extremely cunning and will plan an attack for months, watching where animals come to drink at the side of the river" explains keeper Brian, "so we have to make sure we change things around every day and keep the crocs guessing. It's about staying one step ahead of them!"
It has taken a while to get to the point where Brian can confidently hand-feed these incredible animals, both of whom are over 4.5m long with a bite power 6 times stronger than a Great White Shark!
All visitors to Butterfly Creek during the coming school holidays will get the chance to win some fabulous prizes, including a special Reptiles Behind the Scenes Experience!
Butterfly Creek offers a range of all-weather experiences for children and adults alike. Other attractions include Greenfingers Bugs About Exhibit with New Zealand's largest collection of tarantula and the endangered Giant Weta (wetapunga), baby alligators, the Tropical Butterfly House, New Zealand's largest fresh water and tropical marine aquaria and a great farm animal petting zoo – not forgetting of course the Tip Top Red Admiral Express Train, café and playground.
For more information go to www.butterflycreek.co.nz
Ends