01 June 2010
A huge mural depicting a plane with its nose open revealing its cavernous cargo area is now complete on the recently named Cargo Central building at Auckland Airport.
The painting has taken about 17 days over three weeks to complete. Mural artist, Paulus McKinnon, says this is the largest work he has ever done. Because of the mural's size he often had to run back some distance to see it in perspective. The contrast in colours also had to be increased so the image could still be clearly defined from a distance.
"Due to its size it was a big challenge to get the image up there and looking as close to the original as possible. It's been an enjoyable project to work on and it's nice to work on something of such a large scale," McKinnon says.
Feedback received about the mural has been tremendous. "The mural has made a huge difference," say asset manager Andrew Ling.
Along with the new mural, the entire Cargo Central building has been given a makeover with a lick of fresh paint and new carpets in common areas making it far more attractive.
Ling says the building is an incubator for small businesses. It offers small, affordable office and warehouse spaces and many have grown and moved on to bigger premises after starting at Cargo Central. Office spaces are between 35m2 and 600m2, while the warehousing is from 167m2 to 850m2.
Cargo Central received its name after an internal staff competition to find an identity for the airport freight centre. Lucy Thomas was the lucky winner of $100 for the name.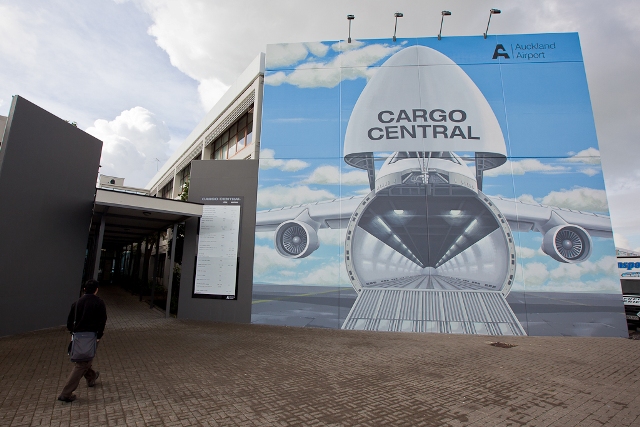 Ends