27 September 2010
If you're the kind of person who doesn't ever have an off day, then working as an air traffic controller might just be the job for you. Sitting high up in the tower, around 135 feet at the viewing level, these men and women are in charge of making sure that every single plane using the airport's runway is safe and in the correct place at the correct time.
According to Garry Hood, Tower Services Manager, during the busy day time hours Auckland Airport has around 40-42 movements – either a landing or a takeoff – an hour. This keeps the three air traffic controllers sitting in the tower above the domestic terminal busy for most of the day.
Garry says their three main goals every day are simple. "We want to be safe, orderly and expeditious. That's what we're here for."
During the course of a normal day the air traffic controllers have to watch out for multiple planes – in the sky and on the ground – and ensure that things move as fast as safely possible, as well as keeping the airport, the airlines, and of course the passengers, happy.
Despite their hectic schedules, they do get a chance to pause. Luckily for them, the view has to be the best at the airport, looking over the international and domestic terminals as well as the Manukau harbour and up into the clear blue skies.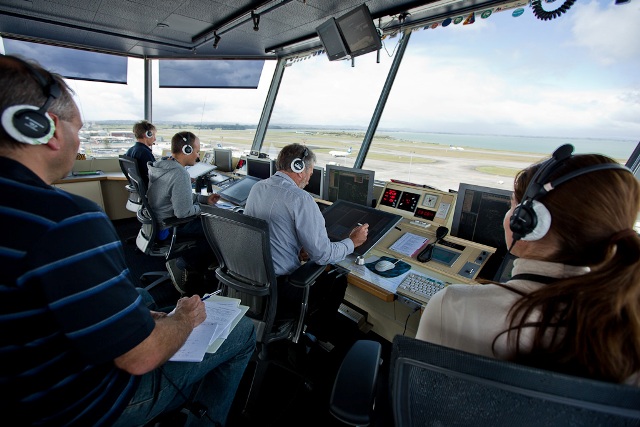 Ends