02 August 2010
Food manufacturers will be able to develop and test products at a purpose-built plant at Auckland Airport from next year, just one of a series of new property developments at the country's primary export hub.
Due to open in July 2011, The Manukau Food Innovation Centre will feature state-of-the-art, flexible food and beverage manufacturing facilities and is expected to address critical gaps in food product development.
It is one of four exciting new projects worth $29 million that the airport has recently attracted. The other deals include a commercial office building and warehouse facility, and a private travel and tourism school.
But the good news doesn't stop there.
Auckland Airport's development programme has been in overdrive in the past year, with projects now worth a total of $115 million.
On top of the recent successes, other deals already under construction or in the pipeline include two new hotels, a Novotel and a Formule 1, a new warehouse for luxury car brand Mercedes in The Landing, and an office building pre-leased to a government tenant.
Auckland Airport development manager Ian Passau says a new strategy to provide flexible options for prospective tenants was a key driver in generating the recent deals. "If a business wants a certain aspect of their lease to be friendly, then we do our best to accommodate them," he says. "We tailor it to the business needs of the tenant."
The reinvigoration of commercial property development activity in the last year is consistent with Auckland Airport's growth strategy, to make the most of its assets and shift resourcing into areas where accelerated growth can be achieved.
"Auckland Airport intends to develop an airport business district to match the likes of Singapore, Hong Kong, Seoul and Dubai airports in acting as a hive of economic activity, and a world-class business experience in its own right," says Peter Alexander, the Airport's general manager of property.
"With more than 18 million people passing through each year, and tipped for stronger than average growth over the next decade, businesses are seeing the Auckland Airport business district as the best place to locate," he adds. "We believe Auckland Airport has a pivotal part to play in helping
Auckland realise its long-term ambitions as a global city, and our property development activity will play a role in that".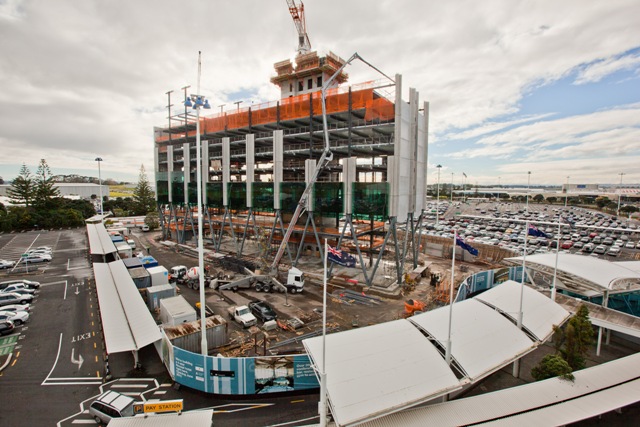 Auckland Airport Novotel Hotel under construction - 20 July 2010
Ends