25 June 2010
This year's Airline of the Year Award Dinner was a double celebration for all those involved.
Not only did guests celebrate Air New Zealand winning the Airline of the Year award, but the event brought together all the different organisations who had input into the airport's top ten in the world placing at the Skytrax awards earlier in the year.
Auckland Airport was keen to give thanks to all those organisations who had participated in helping the airport to win such a prestigious award – from the border agencies like MAF, Immigration, Customs and Aviation Security to the ground handlers and the 18 airlines that were present on the night.
"We wanted to thank everyone and let them know we consider the Skytrax award to be everyone's award. It was a chance for the whole group to celebrate the success," says Mike Clay, Auckland Airport Manager Aeronautical Policy.
The awards dinner was held at the Auckland Museum on June 24, with MC John Campbell keeping the audience entertained. "He went down well with the group, and he understood the industry, which was great," says Mike. "The event finished at midnight, and we were almost pushing people out, because they didn't want to leave."
Simon Moutter gave a speech that emphasised the importance of the awards to the industry, and giving his thanks to all those who helped Auckland Airport – essentially an underdog – punch well above its weight at an international level.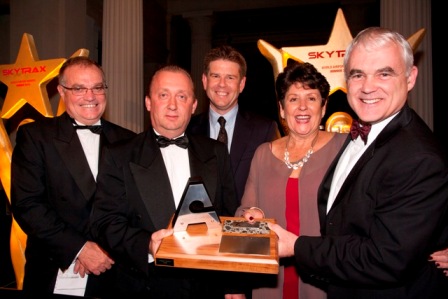 © Bruce Jarvis
Ends