02 February 2009
The red carpet was rolled out at Auckland Airport today for the much-awaited arrival of Emirates' giant double-decker A380 aircraft on a regular service.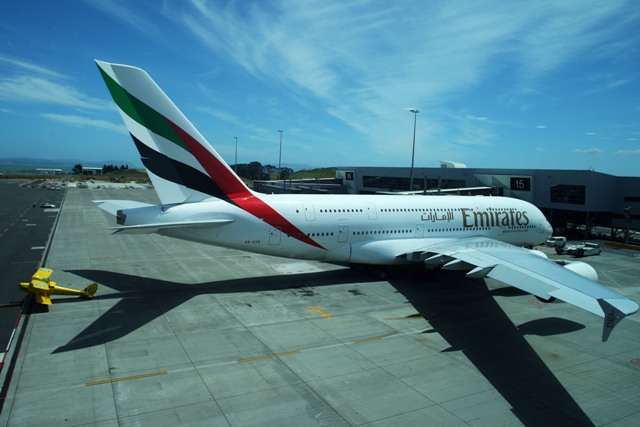 Auckland Airport's chief executive, Simon Moutter, says the airport started preparing for the arrival four years ago and has deliberately designed and built a multi-purpose international terminal pier to accommodate this next generation of aircraft.
"To ensure we are ready and 'A380 friendly' we have invested $50 million on widening our runway, widening our taxiways and building a new pier at our international terminal for this size aircraft," says Simon.
While it will be a first time for Emirates and its A380 at Auckland Airport, the facilities have been tried and tested says Simon, "The pier opened in October last year when Qantas flew in its A380 for a trial flight that went without a hitch. This has given us complete confidence in our expansion and facilities.
"Since October, the terminal's new pier has been operating daily and used by several airlines, including Emirates. There is tremendous interest in the A380 in New Zealand. We have no doubt it will be a great success operating out of Auckland."
The giant Emirates double-decker A380 aircraft will be gracing Auckland's skies three times a week - on Mondays, Thursdays and Saturdays. It is the airline's intention to operate the A380 daily out of Auckland as soon as there are sufficient aircraft of the type in the fleet.
Emirates has been a major international operator at Auckland Airport for over five years with three daily services. It uses an extensive check-in area and has an exclusive lounge in the international terminal for its premium classes and Skywards Gold members.
"Emirates is a top-class airline. We really appreciate its ongoing commitment to New Zealand routes and welcome its decision to bring its A380 fleet into Auckland on a regular basis," says Simon.
Ends
Caption: The future has arrived. The epitome of modern day aviation, the Emirates' A380 aircraft capable of carrying 489 passengers, stands alongside a Tiger Moth, a two-seater aircraft that operated in New Zealand in 1930's
For further information, please contact:
Sarah Aldworth
Communications manager
Auckland Airport
+64 (0) 9 256 8917
+64 (0) 27 474 6483
Auckland Airport's new pier
The completion in October 2008 of a new $50 million international terminal pier at Auckland Airport marked the next stage in the airport's development that will eventually provide for a projected 25 million passengers a year by 2025.
The new pier greatly improves service to travellers by giving Auckland Airport the ability to handle more aircraft at peak times and offering further world-class facilities in Auckland for the travelling public.
Auckland Airport strives to represent New Zealand by providing an outstanding, welcoming and uniquely kiwi experience - the new pier is a shining example of this approach. The arrival and departure levels of the building are adorned with touches of Kiwi flavour to welcome and farewell both New Zealanders and overseas travellers. Specially selected imagery of unique wildlife and plant life brings the great outdoors to life and hints at just some of what New Zealand has to offer.
Auckland Airport's new international pier is also setting a trend in environmental design as it prepares to become one of the first buildings in the country to be recognised with a new US rating for sustainable construction, Leadership in Energy & Environmental Design.