22 June 2009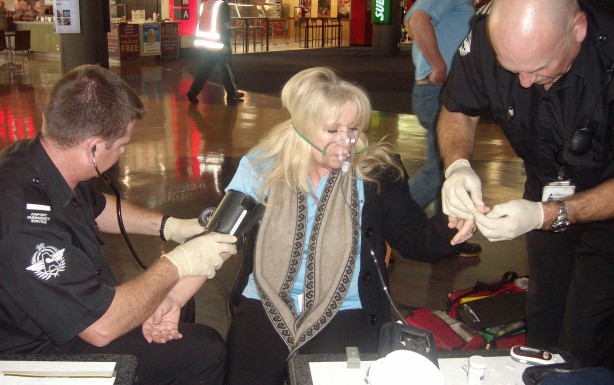 New Zealand grandmother Karen Davy recently broke a singing marathon world record at Auckland Airport... 48 hours and 1 minute after she started.
The North Shore entertainer prepared for her attempt by humming and making tonnes of soup, she was allowed a five-minute break after every hour and a pause of no more than 30 seconds between songs.
As Karen entertained travellers she raised more than $12,000 for Kidney Kids, the New Zealand charity that supports children's kidney transplants. In the spirit of achieving outstanding goals Auckland Airport kindly contributed $5,000 towards the grand total.
Until her attempt the singing record lasted 46 hr 38 min and was performed by Patrick Kirk Gillock from the USA, in Thailand between 1 - 3 August 2008.
Karen's performance is currently being processed by Guinness World Record™ and once official she will hold the title for the longest singing marathon by an individual.
Caption: Karen Davy is attended to by Auckland Airport emergency services officers in one of the routine health checks.