26 May 2009
Last week Auckland Airport took out two national awards at the PRINZ and EECA Awards.
Best corporate PR campaign
Auckland Airport walked away with a prestigious award at the 2009 PRINZ Awards, recognising its hugely popular 12 Days of Christmas charity promotion.
The Auckland Airport communications team scooped the Corporate PR category last week at the 35th annual awards ceremony held by the Public Relations Institute of New Zealand.
Over 50 nominations were received for the 10 awards given out this year with each award being judged by a group of highly regarded PR professionals.
In 2008 Auckland Airport launched the 12 Days of Christmas charity giveaway that saw $120,000 given to 12 worthy charities. For 12 days leading up to Christmas, one lucky charity per day was given $10,000 – kindly donated by Auckland Airport's 13 million annual travellers.
Applications for this year's 12 Days of Christmas will open in November.
Auckland Airport's communications manager, Sarah Aldworth (left) dedicated the award to the hundreds of New Zealand charities who work tirelessly to improve the lives of others. Sarah is pictured with communications coordinator Ainslie Stevenson (centre) and PRINZ national president Fiona Cassidy at the awards ceremony in Wellington.
Carpooling takes the honours
Auckland Airport's lift travel plan won the transport section of the 2009 Energy Efficiency and Conservation (ECCA) Awards last week.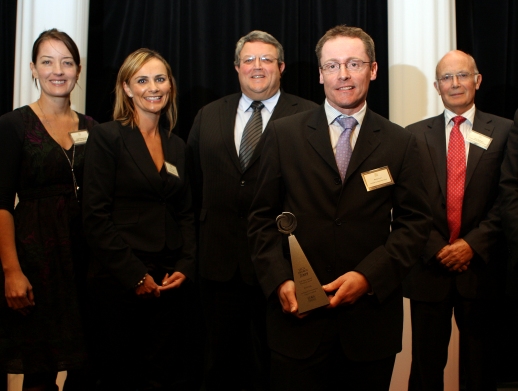 Lift promotes carpooling and the use of public transport by airport staff, thereby reducing vehicle numbers on airport roads, decreasing air pollution, easing congestion and improving the travelling experience of all airport users.
Today, 21 airport based companies and over 650 registered carpoolers participate in lift. It's become an effective travel plan that has influenced travel behaviour, and taken over 840 cars off the road every month, reducing CO2 emissions by at least 68 tonnes per annum.
Auckland Airport's sustainability advisor Martin Fryer proudly clutches the award and stands alongside Minister of Energy and Resources Gerry Brownlee and fellow airport colleagues (from left) Kate Edenborough, Sarah Aldworth and John McShane.