18 December 2008
On the sixth day of Christmas, Auckland Airport's travellers donated to me… $10,000 for Ronald McDonald House South Island!
Father Christmas has come early for the families and children staying at Ronald McDonald House in Christchurch. The charity today received one of the 12, $10,000 slices of Christmas cheer which Auckland Airport is donating in the 12 days leading up to Christmas.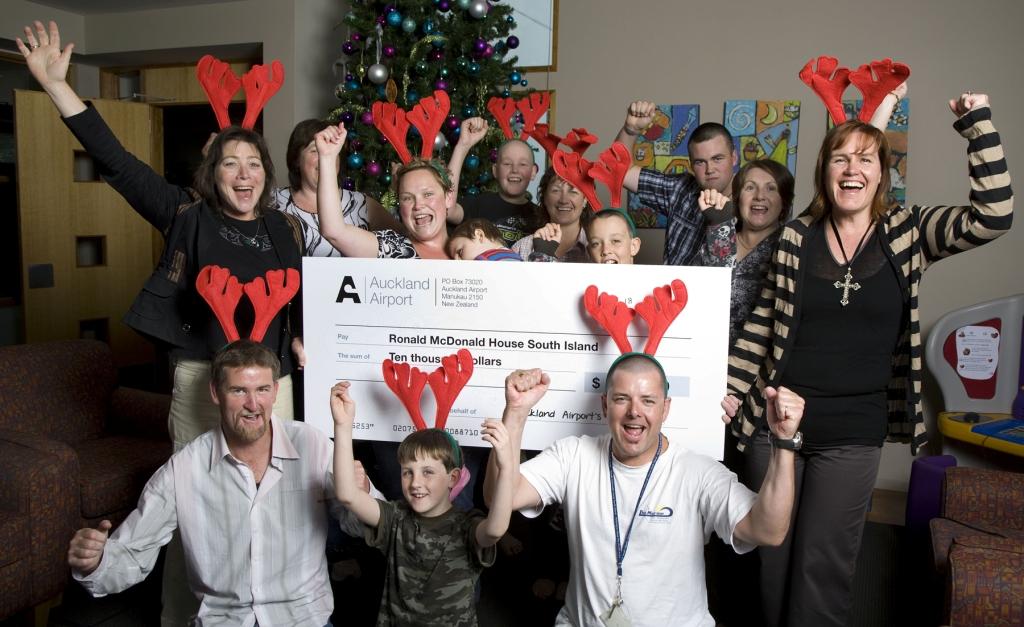 Auckland Airport kicked off its 12 days of Christmas charity donation promotion on Saturday. Over 300 charities applied for a slice of the Christmas cheer which has been made possible by the generosity of Auckland Airport's travellers who have donated their foreign currency or loose change in donation globes positioned throughout the airport.
Chief executive officer of Auckland Airport, Simon Moutter, said, "With four children of my own I know all too well how important places like Ronald McDonald House are. The welcome and warmth you receive when you walk in the door of such an amazing place is something we would like all our travellers to feel when they arrive at our airport."
Ronald McDonald House provides free accommodation and support to families of children requiring hospital treatment in Christchurch. Families come from all over the South Island and many can stay for months on end. The house eases some of the practical worries, providing a home away from home in a positive, supportive environment so families can concentrate on their child's recovery.
"Being sick is hard enough, but if you are a child, it can be confusing, frightening and lonely," says CEO Nickie Barlow. "At Christmas time this is even worse. With donations like this we can create some of the magic of Christmas that these children really need.
"We also plan to use some of this money to give our 'teenagers only' room a makeover. We want to buy them a couple of big plasma screens, infra red headsets and update the surround sound so they can escape from the younger kids and their parents and have their own special space. Thank you so much for this Christmas gift, we are just thrilled that we were selected from so many worthy charities."
Ronald McDonald House in Auckland has also received $5,000 from the airport this year. In lieu of Christmas cards, the company asked its staff to vote on a charity of their choice. Auckland Ronald McDonald House was chosen.
Donations made so far…
On the first day of Christmas – Auckland SPCA, $10,000
On the second day of Christmas – Age Concern Auckland, $10,000
On the third day of Christmas – Refugee Association Aotearoa New Zealand, $10,000
On the fourth day of Christmas – Auckland Women's Refuge, $10,000
On the fifth day of Christmas – WaterSafe Auckland, $10,000
On the sixth day of Christmas - Ronald McDonald House South Island, $10,000
Ends
For further information, please contact:
Communications Manager
Auckland Airport
+64 (0) 9 256 8917
+64 (0) 27 474 6483