14 December 2008
On the second day of Christmas, Auckland Airport's travellers donated to me…$10,000 for Age Concern Auckland!
Christmas can be a very lonely time for those with no friends and family around. Every year Age Concern Auckland runs a Santa Saks programme, spreading a little bit of Christmas spirit to some of our older citizens.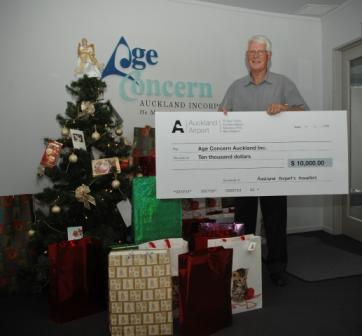 "Chief executive officer of Auckland Airport, Simon Moutter, said "Everyday at the airport we see the joy provided by families being reunited. Age Concern fulfils this role for folk who would otherwise be lonely over the holiday period."
"For some people, their only visitor in the course of the year is the volunteer from Age Concern Auckland who comes bearing a Christmas gift," said Grant Withers from Age Concern Auckland.
"Every year we provide gifts for these people to ensure they get to join in the Christmas festivities. With this generous offer of funds we can extend the purchasing of gifts to provide gifts for many hundreds more people.
"For the staff and volunteers who distribute the saks it is a very joyous time. Seeing the responses from people, who for many it is the only gift they receive all year, can be both joyous and humbling."
Grant says, "The contents of the Santa Sak parcels are donated from sponsors like Auckland Airport. Without the support and generosity of these donations, the Santa Sak run would not be possible. We would like to give an enormous thank you to everyone who has helped make this donation possible."
Age Concern is a national charity which works together to promote quality of life for older people. The Auckland branch was established in 1949 in response to older people living in substandard housing in the inner Auckland city. The charity offers services to older people in Auckland and Waitakere cities, including information and advice, health promotion courses, a minibus, visiting service, home maintenance, elder abuse and neglect prevention and financial management.
Auckland Airport kicked off its 12 days of Christmas charity donation promotion yesterday and will distribute $120,000 to New Zealand charities by Christmas Eve.
The donations were made possible by the generosity of Auckland Airport's travellers who donate their foreign currency or loose change in donation globes positioned throughout the airport.
Donations made so far…
On the first day of Christmas – Auckland SPC, $10,000
On the second day of Christmas – Age Concern Auckland, $10,000
Ends
For further information, please contact:
Sarah Aldworth
Communications Manager
Auckland Airport
+64 (0) 9 256 8917
+64 (0) 27 474 6483