21 December 2008
On the ninth day of Christmas, Auckland Airport's travellers donated to me…$10,000 for the Pohutukawa Coast Community Association!
Auckland Airport today made a ninth charity donation as part of its 12 days of Christmas promotion. Today's recipient is the Pohutukawa Coast Community Association – a group who try to protect the natural beauty of the Beachlands and Maraetai areas, east of Auckland.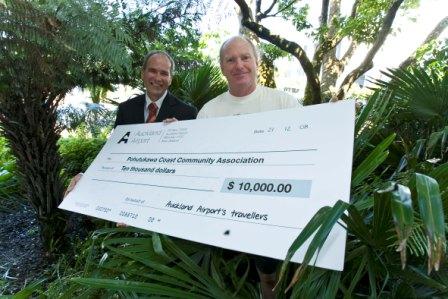 The association is currently working with the Auckland Regional Council and Manukau City Council to plant native trees in a newly logged section of the Whitford Forest near Maraetai. The goal is to protect the stream catchment areas below the forest and reduce sediment flowing on to local beaches.
Auckland Airport's $10,000 donation will be mainly used to plant 1.5 hectares of the forest as part of a trial to select the best planting scheme and to consult with an Australian coastal erosion expert on the project. Once the best planting method is proven, 500 hectares of the Whitford Forest will be replanted to rejuvenate the area.
Chief executive officer of Auckland Airport, Simon Moutter, is thrilled to be making a donation to this project. "Auckland Airport strives to support sustainability and green initiatives. It is fantastic to support a replanting campaign that will provide wonderful environments for New Zealanders and tourists to enjoy, as well as protect our beautiful country."
Kane Glass, committee member of the Pohutukawa Community Association, believes the donation from Auckland Airport's travellers is an outstanding addition to the project.
"It shows valuable support for the community and it means we can extend our planting area. The campaign is snowballing as we get more people on board and donations like this make the public more aware of what we are trying to achieve.
"We hope that by successfully proving we can protect the steep banks in the Whitford Forest that the Auckland Regional Council can then adopt these planting methods and build them in to future consent processes."
Kane Glass also chairs the Whitford Forest working party that works with the forest's land owners and all the stakeholders of the project.
"We work towards encouraging active management of the logged areas rather than letting gorse and weeds take over. The recreational trails will be enhanced throughout the forest. It's a win for all the stakeholders, for the land owners, our community who visit the forest and for the environment. The whole project will take nearly 30 years and will prevent erosion of our landscape and It will be magnificent for the public to use," said Kane Glass.
Auckland Airport's 12 days of Christmas continues every day until 24 December, with a new $10,000 charitable donation made daily.
Donations made so far…
On the first day of Christmas – Auckland SPCA, $10,000
On the second day of Christmas – Age Concern Auckland, $10,000
On the third day of Christmas – Refugee Services Aotearoa New Zealand, $10,000
On the fourth day of Christmas - Auckland Women's Refuge Inc, $10,000
On the fifth day of Christmas - Water Safe Auckland Inc, $10,000
On the sixth day of Christmas - Ronald McDonald House South Island, $10,000
On the seventh day of Christmas - Youthline Auckland Charitable Trust, $10,000
On the eighth day of Christmas – West Auckland Hospice, $10,000
On the ninth day of Christmas – Pohutukawa Coast Community Association, $10,000
Ends
For further information, please contact:
Ainslie Stevenson
Communications Co-ordinator
Auckland Airport
+64 (0) 9 256 8906
+64 (0) 27 499 0212