17 December 2008
On the fifth day of Christmas, Auckland Airport's travellers donated to me… $10,000 for WaterSafe Auckland!
Auckland Airport today continued its 12 days of Christmas charity donations that will see $120,000 given to New Zealand charities by Christmas Eve.
The donations, made possible by the generosity of Auckland Airport's travellers, have created a great deal of interest with over 300 charities applying for a slice of Christmas cheer.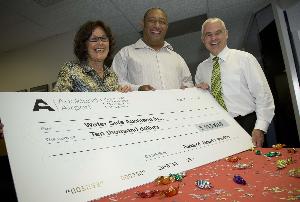 WaterSafe Auckland today received the fifth of the 12, $10,000 donations. WaterSafe Auckland is recognised regionally as the coordinating body for drowning prevention, including water safety promotion and education. Their vision is for everyone to enjoy safe aquatic experiences, and their mission is to build a water safety culture through effective collaboration, education and promotion.
Auckland Airport chief executive officer, Simon Moutter, said, "New Zealand is fortunate to enjoy some of the world's best beaches, lakes and waterways, which are all enormous attractions for the travellers who arrive at Auckland Airport. We are proud to support the work of WaterSafe in promoting a safer and more enjoyable aquatic outdoors environment for Kiwis and overseas visitors."
Sandy Harrop, chief executive officer for WaterSafe Auckland, said, "One of WaterSafe Auckland's aims is around building a water safety culture. Many new immigrants to New Zealand do not have the same "cultural capital" when it comes to general knowledge of our harbours, surf beaches, waterways and lifejacket use. This generous donation will be used to enhance our Aquatic Programme in schools, particularly in schools with high new immigrant and Pasifika rolls."
The Auckland region's water safety needs are unique - geographically, demographically and statistically. No single organisation or intervention can ensure the safety in, on and around water for the more than 1.4m people living in the region. Organisations and individuals must work together to build safe communities. It was from this need that representatives from local government, education, aquatic interest groups, research, injury prevention and health and safety formed WaterSafe Auckland Incorporated (WAI) in 1994.
Donations made so far…
On the first day of Christmas – Auckland SPCA, $10,000
On the second day of Christmas – Age Concern Auckland, $10,000
On the third day of Christmas – Refugee Services Aotearoa New Zealand, $10,000
On the fourth day of Christmas - Auckland Women's Refuge Inc, $10,000
On the fifth day of Christmas - Water Safe Auckland Inc, $10,000
Ends
For further information, please contact:
Sarah Aldworth
Communications Manager
Auckland Airport
+64 (0) 9 256 8917
+64 (0) 27 474 6483