20 December 2008
On the eighth day of Christmas, Auckland Airport's travellers donated to me…$10,000 for West Auckland Hospice
Auckland Airport today continued its 12 days of Christmas charity donations that will see $120,000 given to New Zealand charities by Christmas Eve.
The donations, made possible by the generosity of Auckland Airport's travellers, have received an enormous amount of interest, with the 12 chosen charities selected from over 300 applications.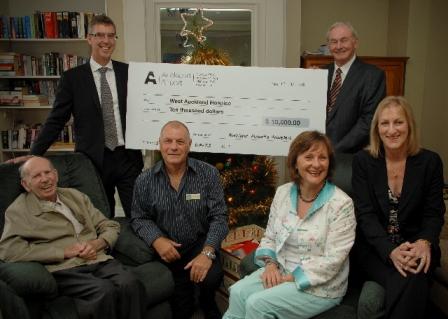 Auckland Airport chief executive officer, Simon Moutter, said, "The dignity that the work of hospices such as West Auckland Hospice provides to the terminally ill and their families are not always widely recognised. Many of our travellers will sadly have had family experiences of the services that are available through hospices and will fully support this donation."
West Auckland Hospice today received the eighth of the 12, $10,000 donations. West Auckland Hospice is a registered charitable trust that was set up in 1987 to give free care and services to West Aucklanders needing support, care and advice during terminal or life-threatening illness. This care extends to families/whanau and carers. They provide support for patients, their families, and those who care for them; through practical advice and physical, emotional and spiritual support; with an emphasis on pain relief and symptom management. Their focus is quality of life.
West Auckland Hospice chief executive Barbara Williams said, "We are truly grateful for the generosity of the travellers who use Auckland Airport. This will make an enormous difference to the ability of our dedicated staff to extend a greater quality care and dignity to those most in need."
West Auckland Hospice intends using the grant from Auckland Airport to purchase a Toyota Hiace van to deliver much needed equipment to people's homes in our community. Currently their patient passenger van doubles as an equipment van, which means that both services are compromised. As a community based hospice, working with 150-180 patients and their families in their own homes, the need for a designated equipment van is essential.
Wheelchairs, walking frames, shower stools, toilet seat raisers all make life much easier for families who are caring for their loved ones who have terminal illnesses. A van with a cargo hold to secure equipment will mean that their volunteer driver can transport equipment to homes in West Auckland, while their passenger van can be used exclusively for transporting patients to the day programmes at West Auckland Hospice.
Donations made so far…
On the first day of Christmas – Auckland SPCA, $10,000
On the second day of Christmas – Age Concern Auckland, $10,000
On the third day of Christmas – Refugee Services Aotearoa New Zealand, $10,000
On the fourth day of Christmas - Auckland Women's Refuge Inc, $10,000
On the fifth day of Christmas - Water Safe Auckland Inc, $10,000
On the sixth day of Christmas - Ronald McDonald House South Island, $10,000
On the seventh day of Christmas - Youthline Auckland Charitable Trust, $10,000
On the eighth day of Christmas – West Auckland Hospice, $10,000
Ends
For further information, please contact:
Sarah Aldworth
Communications Manager
Auckland Airport
+64 (0) 9 256 8917
+64 (0) 27 474 6483